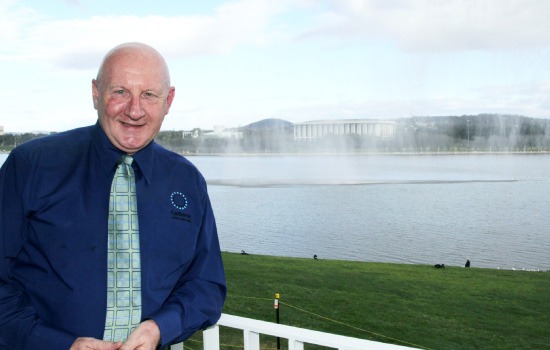 The Canberra Business Event Centre (CBEC) has been at Regatta Point since the year 2000 – so it comes as a shock to CBEC manager, Robert Jeston, when people tell him they didn't know it existed.
In the last 12 years CBEC has run more than 2,500 events, catering for more than 60,000 people.
CBEC has a modern boardroom with seating for up to 20 people. It has a 68-inch presentation screen – and panoramic views across Lake Burley Griffin.
Newsletter
We package up the most-read B2B Magazine stories and send direct to your inbox. Subscribing is the easiest way to keep up, in one hit.
"The boardroom is the ideal setting for any small meeting or corporate dinner," Robert said enthusiastically.
The Eye room can offer you everything from planning days with classroom style set up to theatre style set up for 70 – 95 people and a U-shaped set up for up to 30 people.
"The best thing about The Eye room is that we can offer people a fantastic room for business, and Christmas, cocktail parties – and of course weddings. With the views overlooking the lake, I don't believe there is a better place to hold an event in Canberra," Robert said.
CBEC also has a amazing audio-visual set up, including six drop down screen and six HDMI light pros.
"It rely is one of the best set ups in Canberra," exclaimed Robert.
"What could have more impact to promote your business or impress your staff than to have your training or wedding day at Canberra's premier event centre," Robert said proudly.
When we ask Robert why people should have their events with him at CBEC he said that there are many good function venues in Canberra but what makes CBEC stand out is the personal service they give to their customers.
"We support our customers from the time of their enquiry right through to the end of their event. We help them with their audiovisual needs and make sure they have only the best food and beverage services.
Well known Canberra caterers, Hudson, do all the catering at CBEC.
"Hudson's are fantastic caterers. They provide excellent food and beverages accompanied by exceptional service," Robert explained.
The modern and professional audio-visual set up at CBEC has been established and maintained by Millennium Audio Visual since 2000.
Robert and Katie have over 35 years of being in the events industry and know how to look after your events.
Robert has worked in a number of well know hotels in England as well as West Germany and was manager of the Members and Guests at Parliament House before coming to CBEC.
Katie Also worked at Parliament House and the Hyatt Hotel before coming to CBEC.
"We both love working at CBEC and hope we can let the 'secret of Canberra's premier business and event centre' out of the bag," Robert said.
P 02 6207 7394
M 0409 660 335
Regatta Point
Commonwealth Park, Acton