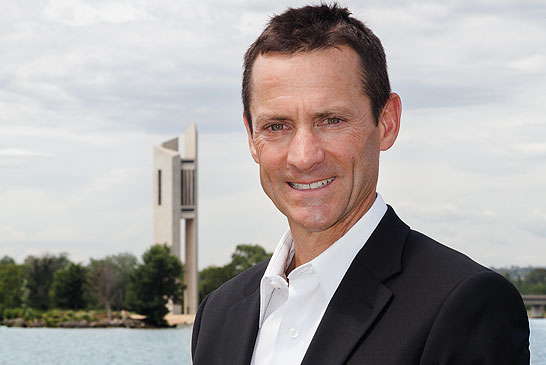 Prepare your users for the journey and you will be pleasantly surprised at how successful your ICT implementation really can be …
We see the projects and hear the stories, year after year and one could say decade after decade, yet we don't seem to learn or address the underlying reality: that the multiple millions of dollars being spent on new Information and Communication Technology (ICT) systems do not deliver the full rewards, unless people, system users, adopt the new technologies.
Joe Wethuizen, CEO Cadence Performance Solutions, says that in both the private and public sector there are many examples of failed, stalled or under-delivered ICT projects where system users have not, for various reasons, adopted new technologies. "The consequences tend to be significant, ranging from multi-million dollar write downs, to expensive re-works, poor service delivery and, oftentimes, the complete scrapping of these much-needed new technologies.
"The consequences tend to be significant, ranging from multi-million dollar write downs, to expensive re-works, poor service delivery and, oftentimes, the complete scrapping of these much-needed new technologies. It is a largely self-inflicted curse that impacts not only the large ICT projects but the smaller ones too," Joe lamented.
When last did you compete in an event, be it a running race, triathlon, debating competition, chess game – whatever challenge it was you decided to take on – and you were completely under prepared for that event? You went into the event with the right tools (new running shoes or your new chess board) but with little knowledge or the wrong preparation? Imagine Usain Bolt, the world's fastest man, turning up to run a marathon. He may be a finely tuned and trained individual but he would fail miserably at the marathon as that is not what he trains and prepares for.
"We see this all the time in the world of ICT. New systems are rolled out, but users are not being trained or adequately prepared. And we wonder time and again why our systems fail?" Joe reflected.
Newsletter
We package up the most-read B2B Magazine stories and send direct to your inbox. Subscribing is the easiest way to keep up, in one hit.
Being an avid sports lover, Joe remembers his first marathon. He was aged 21, full of self-confidence, trained and ready – or so he thought. He had created his own training program, run endless hours for months and was primed and set to go. Joe says the first 21km went by in a breeze. He felt great and was wondering what the fuss of running a marathon was all about. The second 21km was simply a disaster.
"I was reduced to a slow walk, stumbling from aid station to aid station and eventually crossing the line in a somewhat disoriented state. Never again," Joe promised himself.
Joe says looking back, he was completely underprepared for the challenge of 42.2km's.
"Yes, I had prepared – but not for this race. Yes, I was ready – but not for this event. I never made the same type of mistake again, although I continue to learn to this day how best to prepare for the challenges of sporting events. You can never stop learning and improving on your knowledge," Joe said.
ICT projects present a similar challenge. Underprepare your users and be prepared to face the consequences. At best, you may stumble to the finish line; at worst, you may not get to the start line. Your users need to be prepared to "run the race". They need to be adequately trained for the journey ahead, supported for the entire distance (not just at the start or end line), and need to know why they are on this journey and what's in it for them in the long run.
Enterprise Resource Planning (ERP) projects have provided some of the most spectacular ICT program successes and failures over the last decade. ERP technologies are at the centre of what make most (mid to large) private and public organisations run. SAP, Oracle, Workday and Microsoft Dynamics, for example, all have significant enterprise technology offerings and you will find one or more of these systems at the heart of nearly all businesses. These systems bring the potential of significant enhancements in speed, service levels, information transparency and accuracy, as well as cost savings. However, the key to achieving these enhancements and benefits sit with the end users of the technology.
"If you are looking for an image that captures the reality of a failed ERP project, think of a sports car driven by a learner driver. These systems provide the latest technology but are your 'drivers' suitably skilled?" Joe explained.
When viewed solely as an IT project or technical solution, the culture of the company will often determine the outcome of an ERP implementation.
ERP projects, and even more so the current Cloud offerings, require a shift in thinking and behaviour regarding how an organisation conducts its daily business, installs processes, builds supporting technology, and manages people.
"If the ICT strategy is not well thought out, or if the management team and users are not aligned, then new technology can disrupt solid business models, good operating principles and competitive strategies," stated Joe.
"'Garbage in, garbage out' is a well-known saying. Put poor information into a system and you will get poor information out of it."
A similar principle can be applied to system users. If they don't have the right knowledge, aren't effectively trained, aren't able to access readily available support and ultimately have not bought into or adopted the new technology, failure is almost guaranteed.
Accordingly, 'people' – 'users' – are the core ingredient of a successful technology implementation. Take a look at the research from well-respected organisations: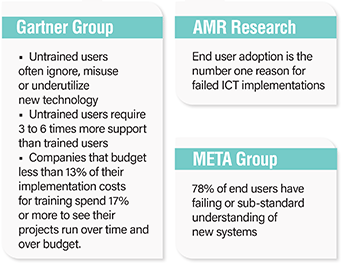 The Australian Defence Force (ADF) and the Department of Human Services (DHS) are two examples of Public sector organisations embarking on ERP upgrades, extensions and implementation of new cloud technologies in 2017. These two organisations alone will be implementing and deploying ICT systems that impact tens of thousands of users. Spend on technology licences alone run into the hundreds of millions of dollars. Spend on consultants to implement these systems will ultimately make the licence dollar numbers look small.
"What spend and planning will go into ensuring the user adopts the new systems and technology, understand the new processes, are adequately trained and have access to support?" Joe asks.
For any technology project, whether you work on the scale of the ADF or DHS, or you run a small or medium sized business, enabling user adoption should be one of your key project priorities. After all, it is the people in your business who will be using the new technology to perform their work, and it is in the organisations interest that these users perform their work well! Guiding these people through the process of user adoption not only reduces project risk, it helps keep your teams focused on the "business of doing business".
Enabling user adoption is not rocket science, but it does require careful planning and consideration. Here are some of the key questions you should be asking and addressing:
Do your users know why you are implementing the new system and "what's in it for them"? (Change management)
Do your users know when the project is starting and what and when the key milestones and timelines are? (Communication)
Do your users know and understand how their roles will change and why? (Change Management and Communications)
Do you have a training plan that addresses every user's requirements (Training)?
How will users be supported pre and post Go-Live? (User Support)
How will you achieve continual improvement post go-live and support employees who subsequently join the organisation or change roles? (Change Management, Communications, Training and Support)
Whilst the above is an over simplification of the task at hand, a well thought through plan and a team that is capable and sufficiently experienced to deliver change, communication and training solutions is a priority that should be at the heart of any ICT implementation.
"New shoes, unfortunately, don't make you suddenly become a faster or better runner. A new bicycle doesn't suddenly make you a champion. And new paint brushes don't create a better artist overnight. Think of technology as the 'tools of the trade' but ensure you teach your users how to effectively use those tools," Joe reinforced.
B
Buy-in – ensure you get buy-in for your project from project sponsors,
management and users
O
Operations – make sure that you involve and/or include operational staff
in your project teams. This will increase acceptance and adoption levels
after go-live
O
Organisational change – remember that ERP projects will impact your
organizational structures, processes, tasks, roles and governance. They are
not "just" technology projects
M
Marathons – as Joe has alluded to previously, ICT projects are typically
journeys and not events. They take significant focus, effort and stamina.
Prepare for the long term.
E
Education – training is vital, but it is not just about your users. Also
educate your consultants, technical and business teams and train your
management, sponsors, partners and customers. Plan and train for success.
R
Results – identify and articulate the outcomes and objectives that you are
trying to achieve through your your ERP and/or Cloud implementation.
Ensure that these outcomes are clearly and consistently communicated and
that project milestones, achievements
Over the last 20 years of working in the ICT and ERP arena, Joe has developed the BOOMER principles to assist organisations, sponsors and project teams drive long term value. These principles provide a clear and consistent framework for delivery successful projects:
"Prepare your users for the journey and you will be pleasantly surprised, or perhaps just relieved, at how successful your ICT implementation really can be," Joe concluded. Cadence Performance Solutions will be writing a series of articles over the next few B2B additions addressing change management, communications and training in the ICT arena. Please share your thoughts and comments with us (at www. cadenceperformance.solutions) and if there are any specific areas you would like us to write about or obtain more information on, do not hesitate to call or email me at +61 1300 30 60 04 or [email protected]
Phone : +61 1300 30 60 04
Email : [email protected]
Website : cadenceperformance.solutions