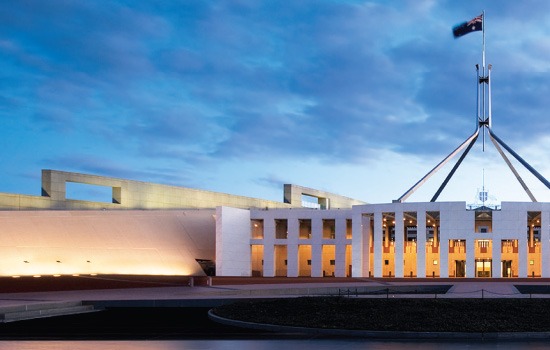 When Chris Faulks became CEO of the Canberra Business Council in 2007, she identified three priority areas for the Council to deliver results to its membership: improving member services as part of membership growth and retention strategies; increasing evidence- based policy and advocacy on behalf of members and the broader business community and raising the profile and reputation of the Council.
Six years on, these priority areas are still important to her. A tireless defender of business and ambassador for Canberra, she talks to B2B about the Council's plan to create long-term jobs, build existing industries and support new industries, so as to lessen Canberra's over-reliance on the public sector as an economic driver, and position Canberra as a vibrant economic capital and region, where people choose to live and do business at a local, national and global level.
"Canberra's future is as a 'smart city', 'a city of ideas and big conversations' where the world's leading minds will develop new technologies, industries and solutions to global issues," Chris said.
"We need to leverage off Canberra's distinctive competitive advantages as the seat of federal parliament, the home of national cultural institutions and collections, world-class universities, research institutions, and clever companies, and be positioned as a hub of innovation and great ideas. As an added bonus, Canberra also offers an exceptional lifestyle with all the benefits of a big city but without the congestion and stress."
"The Board of Canberra Business Council and our members are absolutely focused on this vision for Canberra. We have a fantastic future ahead of us, provided there is the political will to put in place a framework that encourages and enables entrepreneurs and the private sector to flourish."
Acknowledging the current uncertainty that Canberra is experiencing with the proposed cuts to the Australian Public Service (APS), Chris said that unlike other states and territories, the APS accounts for 39% of the total employment in the ACT and the private sector is heavily reliant, directly and indirectly, on the APS. Therefore, any cuts to the public service have a disproportionately negative impact on private sector businesses, the economy and jobs in the ACT. This is the reality of the private sector in Canberra – and something successive federal governments have failed to understand.
Results-driven advocacy
Chris is proud of the advocacy results the Council has achieved for its members and the broader Canberra business community this year. Over 250 members are actively involved in the Council's seven policy Taskforces which are the engine-room of policy development. Over recent months key policy areas targeted included the proposed Australia Forum convention centre; Canberra-a digital city; Brand Canberra; Regional Development and cross-border issues; red tape reduction; procurement; skills shortages; Canberra in the Asian Century and other trade and export matters; Digital Canberra Challenge and the size of the ACT Legislative Assembly.
Before the federal election, the Council developed A Plan for Canberra & The Region – a proactive and strategic set of recommendations to influence the policy platform of both the Federal and ACT Governments in the pre-and post Federal Election environment.
Over six months, the Council consulted with more than 50 peak industry bodies, national institutions, research and learning organisations, local Councils and 150 businesses and individuals to determine the priority projects for Canberra.
The Council targeted job creation and diversification of the economy, identifying priority projects that would help the ACT to adjust positively and confidently to downsizing of the APS, minimize any short term impacts and maximize longer term opportunities.
"The organisations that we consulted represent key industries and over half of the private sector employment base in the ACT and region," Chris explained. "There was unanimous agreement that the construction of a world-class, highly secure new national convention centre called the Australia Forum is Canberra's number one future priority."
"The level of support from the private sector for a new national convention centre is incredible. The Council and the Canberra Convention Bureau will continue to advocate at both the federal and ACT government levels to secure a commitment to make this convention centre a reality," she said.
Other recommendations within A Plan for Canberra & The Region include direct international flights to Canberra from Asia and NZ; funding for international tourism marketing; regional road connections; growth funding for the national cultural institutions and progressing the first stage of the high-speed rail project.
"There is no doubt that the combination of direct international flights, a new Australia Forum convention centre and high-speed rail in the longer term will be transformative for Canberra and the region." Chris said.
Other advocacy successes included the ACT Government recognizing that burgeoning red tape and regulation are constraining small business so a concerted focus on red tape reduction is urgently needed; a 5 to 10% weighting for local small and medium enterprises in ACT Government tenders; securing $2.6 million for Brand Canberra; $300,000 for the Digital Canberra Challenge; and progressing the City to the Lake project.
Connecting members – recognition and profile
There's always so much happening for members of Canberra Business Council. Last financial year, the Council held 208 events attended by 7,654 people. Among these were the Annual Dinner at the Hotel Realm, the first dinner held at the National Arboretum, the Federal and ACT Budget Breakfasts, and a Pre-election Debate.
With small to medium enterprises (SMEs) making up more over 60 per cent of the Council's membership, providing information, networking, learning and development opportunities for this sector has become a real priority for the Council through programs such as Canberra BusinessPoint which now has over 2000 clients; Digital Enterprise interactive training sessions; ScreenACT Pods, tourism forums and Listening to Small Business focus groups.
Membership manager, Sharon Sloan says one of the greatest strengths of Canberra Business Council is its diverse membership base and the ability for members to network with each other.
"Our small business members have the opportunity to network with each other and with the big end of town and collectively lobby government. Bigger business can mentor and partner with smaller businesses." Sharon said.
"Our members span a broad range of sectors, including ICT, professional services, not-for-profit, financial services and banking, transport, telecommunications, retail, manufacturing, building, construction and property, and infrastructure. Canberra Business Council extends its reach through more than 40 peak industry associations, known as Kindred Organisations," she said.
The Council clearly has the membership formula right as its membership grew strongly in 2012-13 with a 91 per cent retention rate.
"With so many major projects on the Council's forward agenda, 2014 is shaping up to be a very busy year and one where members will have plenty of opportunity to be involved and shape the future of business in Canberra." Chris concluded.
 For more information or to become a member: Canberra Business Council Novelle House, Ground Floor, 216 Northbourne Avenue, Braddon T: 6247 4199
PARTNERING WITH ACT BUSINESS
WHILE MANY IN PROFESSIONAL SERVICES ARE WINDING DOWN FOR THE FESTIVE SEASON, CANBERRA'S OLDEST INDEPENDENT LAW FIRM IS EXPERIENCING SOME OF ITS BUSIEST MONTHS.
It's been quite eventful,' says Richard Faulks, who has led Snedden Hall & Gallop (Sneddens) since 1997. 'A good deal of work is flowing through despite the post-election uncertainty.'
It is not only the law that has kept the lawyers busy; in November Sneddens held its 13th annual athletics carnival for students with a disability. Around 300 local children participated at the AIS Athletics Track, and the event was proudly supported by event partner ACT Sport, as well as Athletics ACT, Supabarn Supermarkets, bankmecu and a number of the firm's clients and colleagues. 'Community involvement has always been important to the firm' Mr Faulks notes. The staff hold monthly fundraisers for local causes. 'We feel strongly about supporting the community that has supported us. Profits from the office coffee machine are used for a land restoration project in Angus Downs led by Canberra Rotary.'
LOOKING BACK
Sneddens has come a long way from its early years. Founded in 1960, when the ACT's population was scarcely 50,000, Sneddens was a venture of two government lawyers, Norm Snedden and Allan Hall. They were joined by John Gallop in 1962, and the firm grew to become one of the region's most well-known legal practices. Hall went on to develop the University of Canberra's first law courses and serve as a deputy president of the Administrative Appeals Tribunal, a position now held by another former Sneddens partner, James Constance. Gallop was famously a judge of the ACT Supreme Court, and is one of only two Canberrans to have held the presidency of both the Law Society and Bar Association (the other, Greg Stretton, is another Sneddens alumnus).
'We're quite proud of our history' says director Dennis Martin, who joined Sneddens in 1980 from his own firm where he was in partnership with Terry Higgins, the recently retired ACT chief justice and John Faulks, Deputy Chief Justice of the Family Court of Australia. 'But we're equally proud of what lies ahead.'
Based in Deakin, the Sneddens of today is an 11 lawyer team, who works in the areas of dispute resolution, including personal injury work, commercial law, property law, estate planning and migration law. The firm's clients are a roster of prominent ACT businesses, including Supabarn Supermarkets, Hyatt Hotel, National Capital Motors, John James Memorial Foundation, the Uniting Church (ACT) and the Canberra Raiders.
INNOVATIVE APPROACH
The firm's directors – Messrs Faulks and Martin, Gerald Santucci and Tanya Herbertson – have actively sought to be innovative and to take on new lines of work. Most notably, Sneddens has carved out a niche in the area of Commonwealth superannuation.
'Some years ago we took on a client who had been wrongly advised that he wasn't eligible to join the Commonwealth superannuation scheme,' explains Mr Faulks. 'We decided it was an interesting legal question, and a very important one, given a person's retirement had been disrupted.' Sneddens conducted a lawsuit against the government, which was successful before the High Court in 2007. Sneddens is now representing over a hundred similar clients; predominately workers who were employed by the government in blue-collar roles. The firm has recently received publicity for an ACT Supreme Court case which awarded damages to one such client.
PARTNERING WITH ACT BUSINESS
Sneddens has also positioned itself at the cutting edge of pricing. Over the past several years the firm has phased in fixed- fee arrangements as an alternative to the traditional hourly billing model for which lawyers are known. 'It's about helping clients manage their expenditure,' remarks Gerald Santucci, who heads the Sneddens business and commercial practice. 'Knowing the law isn't enough, lawyers need to align their services to a client's business and provide advice that's practical and, most importantly, accessible.' In fact, the firm prides itself on partnering with its business clients, and assisting with all manner of enquiries, whether large or small, so that clients can receive the best practical and cost effective advice available. "Understanding our clients' business: what makes them tick and what can interrupt them, is a key focus of our firm" said Mr Santucci.
One of the major challenges that Sneddens has identified for local businesses is their estate and succession planning. Indeed, many local business owners are starting now to consider how and when they will transition from business to retirement. For anyone who considers their business to be their superannuation, a carefully managed succession plan is crucial. Sneddens' business team can provide comprehensive estate planning and business succession advice, tailored to their clients' needs and cognizant of the unique circumstances of the Canberra market.
LOOKING FORWARD
The directors are confident the firm will continue innovating under future generations of leaders. Many of these leaders are expected to originate from Sneddens' scholarship program, which offers financial support to scholarship winners to study law at an ACT university. This initiative, involving a competition run through local schools and colleges, was launched in 1999 and since that time dozens of winners, including Nick Tebbey (who is now a senior associate with Sneddens) and each of the firm's five current paralegals, have worked with Sneddens.
In an environment marked by at least short-term uncertainty in the Canberra economy, Sneddens remains confident the city will thrive. 'Canberra is a remarkable, tight-knit community with many outstanding businesses' emphasises Mr Faulks. 'Resilience and innovation will steer us through anything.'
UNIVERSITY OF CANBERRA OPENS CAMPUS FOR BUSINESS
Partners and investors are being invited to join the University of Canberra to develop unused areas of its campus.
The University has released a new development prospectus outlining the principles and selection criteria for developing the campus.
According to Vice-Chancellor Professor Stephen Parker the University has more land than it will ever need for academic purposes, but the campus offers opportunities for developments that would strengthen the University and the community.
"The world of higher education is changing at an increasing pace and we need to be a university, and a campus, of the future," Professor Parker said.
"The nature of teaching and learning is changing, particularly with the advent of e-learning on computers and mobile devices. Students are coming onto campus less often or for shorter periods.
"We will never need the whole campus for academic and related purposes in the traditional sense. And this provides an opportunity to be a leader, to change our sense of what a campus is for and to open it out for the benefit of our students, our researchers and our community."
The University is particularly interested in working with like-minded partners, who are attracted by the chance to collaborate in research or provide opportunities for the next generation of professionals through internships.
The University is already working with partners in health and sport with work underway on a new sports hub, which will include ACT Sports Hall of Fame, a new headquarters for the Brumbies Super Rugby side, sports studies teaching and research facilities, a bocce court and new student sports facilities. Special Olympics and ACTSPORT will also call the new building home.
Work is almost completeon a GP Super Clinic on campus. Operator Ochre Health chose to partner with UC in a new development on the campus and was successfully allocated Commonwealth funding. Health Workforce Australia also contributed funds as an Australian Government initiative to extend the University's innovative student-led clinics as part of the development.
Professor Parker said the University of Canberra could become like a modern day cathedral, pointing out universities already shared many of titles, such as dean and chancellor, used in cathedrals and adding cathedrals had important economic and cultural functions.
"I think the campus of the future will be a special community resource, where learning, discovery, cultural activities, sport, business, innovation, health and residential living all combine," he said.
"I think the university is the cathedral of a modern knowledge economy; and this campus can be a new form of cathedral town. The university will be the organising element at the heart of it, but much else will go on besides, which will strengthen the University and strengthen the community."
The University would consider a range of business opportunities. And there is flexibility in the commercial structures that will be considered, including 'BOOTs' (build, own, operate, transfer), joint ventures, alliances, lease back arrangements and others consistent with market conditions. The University's focus is on developments that clearly provide mutual benefits.
Partnerships will be based on the University's Campus Development Principles outlined in the development prospectus. These include consistency with the University's existing plans, strategy and brand; long term financial benefit to the University and the communities it serves; and a clear contribution to a campus environment that is conducive to excellence in learning and research.
Expressions of interest will be assessed based on criteria including the respondent's previous experience of delivering similar projects, alignment with the University's campus development principles and opportunities for collaboration and mutual benefit. Financial and operational risk together with timing considerations will also be taken into account.
For more details or to submit an expression of interest, visit: www.canberra.edu.au/develop
SERREE – South East Region of Renewable Energy Excellence
SERREE is an industry development initiative for the renewable energy sector across the south east NSW-ACT region.
Objectives
• A strong and collaborative SERREE Network that is inclusive of the region's wide diversity of renewable energy stakeholders
• A robust and exemplar renewable energy industry capacity that stimulates investment in the region
• A local workforce with the necessary skills and capacity to service the region's current and expanding renewable energy industry
• Engaged communities with a good understanding and appreciation for renewable energy development.
The Network
The Network includes over 300 members who represent the diverse range of stakeholder groups involved in the renewable energy sector:
• Governments – Federal, State/Territory and Local;
• Business and Industry;
• Education, Training and Research; and
• Community, including landholders and Not-for-Profit organisations.
Steering Committee
SERREE is led by a Steering Committee that includes representation from Regional Development Australia (RDA) ACT, RDA Southern Inland, RDA Far South Coast, and from the NSW Office of Environment and Heritage, the ACT Economic Development Directorate, and the Federal Department of Industry.
Join
If your company is developing renewable energy projects in the south east NSW-ACT region and/or provides goods and services to the sector, we invite you to join the SERREE Network. Membership is free and without obligation – it provides opportunities to be informed about the latest industry developments and to connect with other key renewable energy stakeholders.
For Information
SERREE Chair Liz Veitch T: 02 6173 7000 | M: 0428 223350 E: [email protected] SERREE Project Officer Craig Hanicek M: 044 88 66 444 E: [email protected] www.rdaact.org.au/serree
LOCAL BOTTLE COMPANY PRODUCTS USED WORLDWIDE
 by Anton Pemmer, Director, Bottles of Australia
Since 1989, Bottles of Australia™ have provided quality products to the Australian market.
In 1991 BOA was the first Australian company to manufacture the bicycle shape bottle here in Australia.
Today our bottles can be seen across many industries both domestically and internationally, at retail and in the promotional industry, corporate business, schools, colleges and universities, government departments, and sporting clubs. BoA has an extensive distributor network which you can locate on their website www. bottlesofaustralia.com.au
If you have a printed drink bottle in your cupboard or refrigerator at home there is a great change that it will be a BOA bottle. So check out the bottom of the bottle, then you will know if you're using a quality Australian made product.
The BOA bottle meets and exceeds international and Australian food standards and has been independently tested. That is why companies like Nestle and eight out of the ten top international sporting brands use BOA products. Australian Olympic Teams, Paralympics Teams and Commonwealth Games Teams have been using BOA bottles event after event because the product stands up to the requirements of elite athletes.
We are continually researching and developing new drink bottles and drink bottle carriers and printing processes to supply the market with the best quality products available. We strive to set the benchmark for up-to-date styles and colours, constantly reviewing our ranges every year.
We take the feedback from our customers and consumers to make improvements and changes that people want and need. Your feedback is always greatly appreciated and can only help us to do a better job in the future.
Our services and promotional drink bottles are tailored to your individual needs and we are constantly assessing market trends and the upgrading of our equipment, skills and products, to meet your requirements and expectations.
We are able to turn around most orders within our standard production times of 7 to 10 working days from artwork approval or faster when we need to respond to your tight deadlines. Service and Quality is our key to helping you with our products. So with minimum quantities as low as fifty bottles or in the tens of thousands we will always strive to look after your needs.