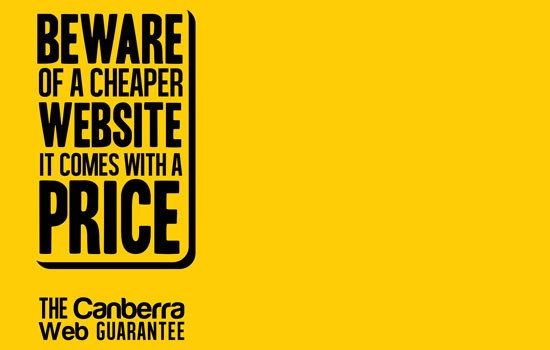 Getting a website can be daunting if you don't have an IT background. The amount of choices available can be overwhelming and it's hard to pick a winner out of the 02crowd.
Often, people find themselves defaulting to the cheaper options – they seem, after all, simple enough for the layman to follow, so people think they know what they're getting. The operative words in that sentence, in case you're wondering, are 'seem' and 'think'.
Cheap website design is a thriving economy. However, what the cheap website creators don't tell you is they're providing you with a rental website. If you choose to terminate your affiliation with the company, they keep the site because the site has been built on a custom CMS which is not transferable. This can be damaging not just in terms of client loss, but also in the long run, as being effectively locked in with the web company means they don't necessarily need to provide good service. Numerous web design companies are notorious in this regard – clients complain of charging for CMS errors, limited or restricted software, hidden costs, unresponsive design, delayed service to problems, inability to reach the staff, call centre nightmares…and the list goes on.
The fact is you get what you pay for. Cheap website creators will rely on the fact that they effectively own the design of your site, to keep you coming back and paying the monthly fees. They use custom CMS (content management software) that means you have no access to the files and are restricted in terms of software function. Any bug fixes require extra fees and clients claim that fixes are often ineffective and slow to take place. In other words, the money you think you're saving just becomes a whole string of extra costs and problems in the long run.
Newsletter
We package up the most-read B2B Magazine stories and send direct to your inbox. Subscribing is the easiest way to keep up, in one hit.
Unlike the cheap website companies, CanberraWeb use an open source CMS to build websites. The sites are expandable and once built, belong solely to the client. They have a strong focus on client relations, liaising directly with their customers and developing a face-to-face relationship to ensure every detail is to their liking. CanberraWeb's flexibility means you can sit down with their graphic designer to discuss your requirements or simply watch as they create the design before your eyes. This flexibility also extends to price – they will work within your budget and to your needs.
Call 02 6223 2222 or drop into their office for a
chat at U5 47 Vicars Street Mitchell.
canberraweb.com.au