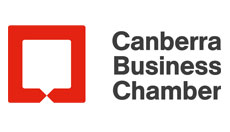 On 13 November, a new organisation called Canberra Business Chamber launched at Hotel Realm at their Inaugural Gala Dinner. Canberra Business Chamber resulted from the coming together of Canberra Business Council and the ACT and Region Chamber of Commerce and Industry. The new organisation has launched with a bang, they released a new brand, a new board and a new focus on business in Canberra and the Capital Region. They released a video outlining the future of Canberra Business – See the video here: www.canberrabusiness.com.
The event was a sold out 500 person event, with a great line up of speakers including ACT Chief Minister Katy Gallagher, Tony Henshaw, Chris Faulks and Dr Sam Prince.
This is the first time in the history of Canberra and the Capital Region there is just one body representing all of business.
Canberra Business Chamber has a mission to inspire, empower and represent business in Canberra and the Capital Region. They plan to deliver on this mission by focusing on their member's needs – they represent over two thirds of businesses across Canberra.
For new businesses, those looking to grow, or large businesses, Canberra Business Chamber has a range of services to assist you.
Canberra Business Chamber has an affiliation with over 100,000 industry and associations together with representing more than 5,000 businesses through direct membership means they can access experts in all areas of business and industry. This gives their members a source of trusted information, access to connections and business opportunities that benefit their own business. Through a Workplace Relations hotline, monthly programs, speaker events, training, projects and links to business and industry experts, they can help your business. They also run a range of business focused programs including: TradeStart, ACT Digital Enterprise, Canberra Business Point and the ACT Exporters' Network. The CBR Innovation Network was advocated and initiated by the innovation, education and sustainability taskforce. The Arboretum was an initiative from the Tourism, Sports and Arts taskforce working with the ACT Government, including lobbying the Federal Government. They also host Trade Missions, including one to Singapore with the ACT Exporters' Network, and the ACT Government, with great outcomes. A delegation of 20 Canberra businesses in Singapore.
Newsletter
We package up the most-read B2B Magazine stories and send direct to your inbox. Subscribing is the easiest way to keep up, in one hit.
Canberra Business Chamber provides unrivalled opportunities to forge strong relationships with senior business executives across a range of industries, together with ACT and Federal Government. Canberra Business Chamber provides an open environment for businesses to interact with key decision makers, with leaders from the private sector, diplomats, policy-makers and industry experts. Canberra Business Chamber participates in a demanding schedule of round tables, meetings and briefings with Ministers, their offices and government departments, dealing with policy across the spectrum. The current taskforces are focused on topics including: Economic and Regional Development, Innovation and Education, International Business, Small Business, Tourism, Sports and Arts, Planning and Infrastructure, Retail, Not for Profit, Sustainability and Singapore. They have been strong supporters of direct international flights, and Australia Forum.
The group will be headed by Chris Faulks, previously the CEO of Canberra Business Council since 2007. Prior to that she was General Manager, Public Affairs and Government Relations at Diabetes Aust. Chris spent 13 years working as a Senior Adviser to Federal Government Ministers responsible for the portfolios of Education, Science and Training; Health and Ageing, Family & Community Services and as Chief of Staff to the President of the Senate. Chris has Graduate Diplomas in Education, and Business Administration, and Bachelor of Arts (Economics and Politics), and an Honorary Doctorate from the University of Canberra.
Learn more at www.canberrabusiness.com