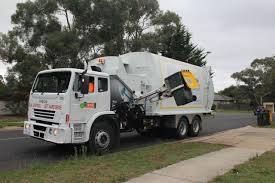 Local, national and international businesses are being asked to come up with innovative solutions to manage the ACT's waste into the future as part of a market soundings exercise run by Transport Canberra and City Services.
"As part of ACT Government's commitment to ensuring Canberra grows into a smart and sustainable city, the waste industry is invited to share their solutions for waste management now and into the future," Minister for Transport and City Services, Meegan Fitzharris said today.
"We are asking any interested business and organisations to participate in this market sounding to help the ACT Government create a better picture of the opportunities on offer in order to improve our waste infrastructure and management services.
"We hope to get suggestions from industry on how we can better collect household recycling and on how we can process red and green bin waste. This could include new sorting facilities, composting or energy suggestions that divert waste from landfill. We are also hoping industry will have ideas about better ways to collect and manage waste and recycling from apartment buildings.
"The Territory has set some ambitious targets under the ACT Waste Management Strategy 2011-2025 to reduce waste and lower emissions. By working with industry and seeing what they can contribute, we hope to encourage innovative solutions and smart designs.
"The Strategy seeks to create a carbon neutral waste sector by 2020 and to achieve full resource recovery by 2025. This means that, by 2025, the current recovery performance of the Territory's waste sector must improve by nearly 20 per cent.
Newsletter
We package up the most-read B2B Magazine stories and send direct to your inbox. Subscribing is the easiest way to keep up, in one hit.
"Total waste generation in the ACT is currently just over one million tonnes per year and is projected to grow by approximately two per cent a year. We recover just over 70 per cent of the waste we generate, meaning nearly 300,000 tonnes of waste is sent to landfill each year. Of this about a third is commercial and industrial waste.
"The ACT Government is aware that improving our waste outcomes will require us to work closely with industry.
"By responding to this market sounding, businesses will have the opportunity to help the Territory understand what they can offer, and describe what the Territory has to do to ensure they are able to operate in a commercially viable market.
"We want respondents to offer solutions for all waste, no matter how big or small the proposals may be."
To share your ideas with us email [email protected] or visit our website www.tccs.act.gov.au for more information.