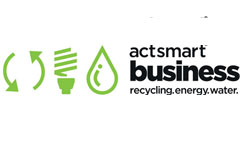 Saving money and keeping costs under control – it's what smart businesses do. If you operate from a separate business premises (not home), and have fewer than 10 full-time equivalent staff or electricity bills under $20,000 (incl. GST), you could be eligible for Actsmart's Business Energy and Water program.
Actsmart will conduct a FREE energy and water assessment of your business, and provide a report detailing where energy is used and how to use less to save money. Better yet, Actsmart offers a rebate of up to $5,000 on a 50-50 cost basis to help your business upgrade inefficient equipment.
Replacing outdated equipment is particularly worthwhile when it results in significant ongoing savings for your business. One activity with potential for significant savings in most businesses is lighting.
The emergence of reliable, dimmable, multi-purpose LED lighting has transformed the lighting market. LEDs can now replace virtually any kind of lighting – globes, downlights, tubes, strips, floodlights, spotlights, and even warehouse hi-bays. The cost of LED lighting has fallen dramatically in the past two years, making them affordable.
Where there is halogen or fluorescent lighting, LEDs can now do a better job while using 50-80% less electricity, and can also save money for your business through reduced maintenance and replacement costs. Altogether this means large ongoing financial savings, especially for businesses that have lots of lights, or that use lighting for long periods of time.
Actsmart has recently supported some lighting upgrades that have achieved remarkable savings. For example, Pope's Electrical and Data Supplies in Fyshwick recently replaced nearly 450 fluorescent tubes with a mix of LED tubes, LED downlights and LED hi-bays. As a result they more than halved their electricity bills compared to this time last year.
Newsletter
We package up the most-read B2B Magazine stories and send direct to your inbox. Subscribing is the easiest way to keep up, in one hit.
Another example is Anytime Fitness, a gym in Fyshwick that is open 24 hours a day. They replaced fluoro tubes with LED downlights, and their electricity bills for January and February 2016 are 65% lower than they were at this time last year.
LED lighting upgrades can transform business electricity consumption, substantially reduce electricity bills, maintenance and replacement costs, and increase business profit.
Here are a few general tips regarding lighting:
Use natural light wherever possible.
Turn lights off when not needed.
Keep luminaires clean to maximise light output.
Consider de-lamping, but observe Australian Standards for light levels.
There are more success stories from ACT businesses that have reduced their energy and water consumption at the Actsmart sustainability hub: actsmart.act.gov.au
You can also find us on Facebook at Actsmart – Canberra or follow us on Twitter @SustainableCBR for more information on programs and resources available for your business.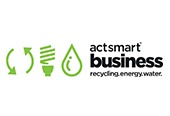 For more tips, information and resources visit the Actsmart Sustainability Hub (actsmart.act.gov.au) and follow us on:
Facebook: Actsmart – Canberra
Twitter: @SustainableCBR
Contact number: 13 22 81
Email: [email protected]
Actsmart – helping your business make changes for a sustainable future.