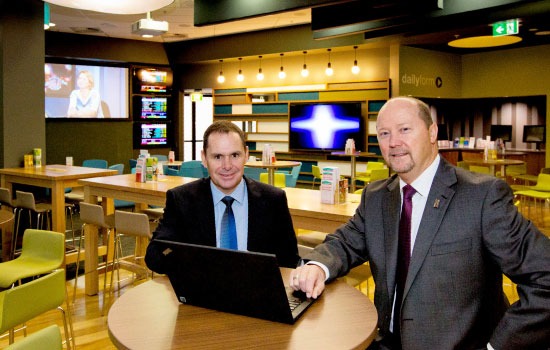 The Hellenic Club in Woden has found more time to play, and more ways for you to play! A $500,000 renovation of their Sports Bar has made this venue the talk of the town.
With OPC's strategic IT planning and a fully outsourced IT Managed Service taking care of their IT, the Club has has enjoyed more time to complete their most recent project – a state of the art, high-tech Sports Bar and TAB that has been architecturally designed with a local hero theme, multiple high definition projectors, custom acoustic sound ceilings and 27 screens – a truly great place to kick back and relax.
From Day One OPC has assisted the Club by highlighting key IT areas on which to focus, the requirements for day to day support and the areas needing improvement from a strategic long-term perspective to ensure the Club maintains and improves on its capacity to best utilise its ICT resources.
Newsletter
We package up the most-read B2B Magazine stories and send direct to your inbox. Subscribing is the easiest way to keep up, in one hit.
As the Club's Chief Executive Officer Ian Cameron says,
"We are very pleased with both the response to IT issues, as well as the behind the scenes work and forward planning that OPC provides. We have confidence in our systems, which are such a large and important part of our business around the clock."
OPC has developed a multi stage strategic plan that will bring redundancy and high availability to the Club's critical business systems. The stages include the introduction of a new clustered server and storage area network to provide resource load balancing for improved speed and responsiveness, and the implementation of leading technologies to enhance disaster recovery with real-time replication across multiple sites. The introduction of these technologies in conjunction with the virtualisation technologies already introduced by OPC will ensure the long term stability and reliability of the Club's critical business systems for many years to come.
The Hellenic now has a very stable, efficient and secure IT environment. Delivered using industry proven ITIL methodologies, all of these enhancement projects have realised cost savings for the Club and, when teamed with our IT Managed Services Solution, have allowed for comprehensive budgetary planning.
"OPC knows that no two organisations are the same. IT is a tool of business – it needs a strategic plan and proactive support," said Brett Norton, Managing Director of OPC.
Strategic IT planning is just part of the commitment that OPC makes to our clients. They can 'Leave IT to us' and get on with the job of running their businesses – or enjoying some GOOD downtime!
OPC offers end-to-end IT support!
* Fully Managed IT Services
* Project Management & Consulting
* VMware Server & Desktop Virtualisation
* Helpdesk & Service Desk Support
* Business Continuity & Disaster Recovery
* Procurement Services
* Dell Server & Storage Solutions
* Desktop, Laptop and Mobile devices
* Website Design & Development
* Custom Drupal Development
* Panoptic Monitoring & Website Hosting
* Accessibility Compliance Testing
OPC IT Pty Limited.
31-37 Townshend Street, Phillip ACT 2606
P: 02 6162 8300 F: 02 6282 6558