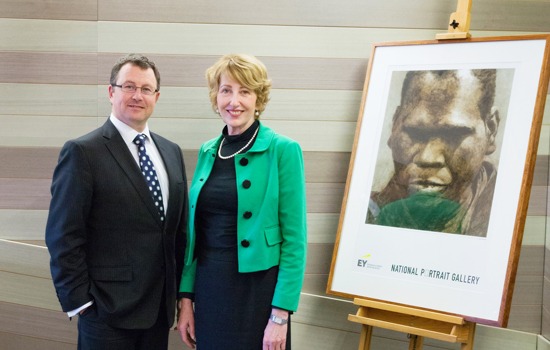 With a record number of new Canberra partner promotions in 2015, EY's current and former Canberra Managing Partners, Todd Wills and Lucille Halloran, share their insights on the growth of the practice, Canberra's market outlook and what they see as some of the key future opportunities in the region.
TODD, YOU TOOK ON EY'S CANBERRA MANAGING PARTNER ROLE IN JANUARY. HOW HAVE YOU FOUND THE FIRST SIX MONTHS IN THE ROLE?
My first six months in the Managing Partner role have been very exciting. Seeing our people and our clients develop and succeed is really gratifying and I'm proud to be leading our Canberra practice through the next stage of our journey. As a firm, we have been focussed on providing exceptional client service and building high performance teams to serve our clients.
There have already been several highlights for me. Firstly, we've had the appointment of a record number of new partners which has increased our capability to service our clients. The EY Women With Ambition series has gone from strength-to-strength, with guest speakers like The Honourable Quentin Bryce, The Honourable Kristina Keneally and Holly Ransom providing insights into their personal and professional lives.
Personally, my involvement on the Property Council of Australia's Male Champions of Change panel was a great experience. EY is committed to supporting diversity and inclusiveness and this session highlighted the importance of recognising unconscious bias and promoting gender equality and flexible work arrangements for all people. I also had the opportunity to take part in the Canberra Vinnies CEO Sleepout last month, raising funds to support homelessness services in the region. This is a great initiative for a worthy cause and the support I got from my fellow partners, EY people and the wider community was just fantastic.
YOU MENTIONED EY HAS JUST APPOINTED SEVERAL NEW PARTNERS IN CANBERRA. WHAT'S BEHIND THIS GROWTH IN THE PRACTICE?
With the firm's purpose of building a better working world, I think our people engagement is higher than ever. We are clear about where we're going as an organisation and I think that's part of what's fuelling our growth.
I think Canberra is a great city and a great place to do business. We have focussed on recruiting the right people with deep skills, which our clients are value, and we have placed great importance on providing exceptional service all the time.
In Canberra, we've just announced the appointment of seven new partners and we had Rear Admiral Rowan Moffitt AO join us to head our defence team in September last year. So we've gone from nine to 20 partners in the space of just two and a half years, which is a tremendous achievement and a clear sign of the positive momentum in our business and Canberra as a city. The new partners include both internal promotions and direct admit partners across a wide range of disciplines including advisory, assurance and transaction advisory services. With the new appointments, we're building on our already strong capabilities in both the public and private sectors and introducing new skillsets that will help us better advise our clients around key issues such as infrastructure, health, tax, defence, data analytics and cybersecurity.
WHAT DO YOU THINK ARE THE BIGGEST GROWTH OPPORTUNITIES IN THE CANBERRA MARKET?
We're seeing areas like cybersecurity and data analytics in particular are becoming more of a focus for our clients. The demand for services in this area from both the government and private sector is growing and this will only continue as technology,and its associated risks and opportunities, become even more sophisticated. At EY, we've boosted our capacity in this space through a number recent acquisitions of data analytics and market research businesses including C3 Business Solutions, Sweeney Research and ISD Analytics.
More broadly, I see a lot of opportunity for future growth in areas such as health, defence, infrastructure and education. There is also a burgeoning start-up sector in Canberra that is quite exciting and driving some new innovations in the market.
LUCILLE, YOU'VE RECENTLY TAKEN ON A NEW NATIONAL ROLE AS EY'S OCEANIA GOVERNMENT AND PUBLIC SECTOR LEADER. WHAT DOES THIS NEW POSITION ENTAIL?
My role is working with our people and our clients in government and public sector to identify and anticipate their future needs.It's about mobilising our people around our clients in the government and public sector at all levels, federal, state and local. EY has close to 20,000 people dedicated to helping government and public sector clients around the world, so the ability for me in this role to represent the region, including Australia and New Zealand, and be a connector of people and our clients on a global level is quite exciting.
I'm particularly excited about continuing to be based in Canberra. When I took on the role, I was given the choice of moving to a different city but I decided that Canberra was where I wanted to be. There's a real opportunity in this role to bring my Australian and New Zealand team together with global expertise, to work with our government and public sector clients to make a big difference. That could mean looking at solutions to improve the quality of life for indigenous people, or finding ways to help people with disability to have greater control and choice. Or it might be through the improvement of transport and infrastructure, enabling people to access opportunities that lead to greater social and economic participation. It's an exciting role and I'm loving it.
THE ENVIRONMENT THAT GOVERNMENTS OPERATE IN IS CHANGING. HOW IS THE TRANSFORMATION OF SERVICE DELIVERY LIKELY TO IMPACT THE WAY GOVERNMENT WORKS?
If you look at the scale and range of services provided by government in Australia, it's a huge economy. One of the key challenges faced by our clients is how to do more, better and faster, with the same or less funding. We are seeing funding shift from providers directly to citizens, giving them greater choice and control over the services they access. With greater use of digital and a wider range of channels, the experience of citizens is improving.
Through contestability, we are seeing clients seek new ways of leveraging capability in the private sector and other markets. We are seeing new markets emerge to address the full range of needs of specific segments of our population. An example of this can be seen with the NDIS, which aims to give people with disability greater control and choice in the selection of services and support they need to improve their quality of life and become more independent.
EY'S RECENT REPORTS ON THE FEDERAL BUDGET AND THE INTERGENERATIONAL REPORT HIGHLIGHTED THE NEED FOR A
GREATER FOCUS ON PRODUCTIVITY ACROSS THE PRIVATE AND PUBLIC SECTORS. WHY IS THIS IMPORTANT?
It's important for a number of reasons. The World Economic Forum has said that the most important determination of a country's competitiveness is its human talent and skills and the productivity of its workforce. As a nation, Australia has a number of assets and we have human capital that we need to deploy effectively to create a healthy economy. A strong economy attracts investment and that in turn allows us to continue to grow and be able to provide a high quality of life.
Productivity is also essential to creating more job opportunities and driving greater participation in the workforce of important groups including our youth, women and mature age workers. So productivity is important for social and economic participation, as well as for economic development and attracting foreign investment.
FINALLY TODD AND LUCILLE, WHAT DO YOU THINK THE FUTURE OF CANBERRA LOOKS LIKE?
[Todd] The future for Canberra is bright. I think the city has certainly grown up a lot in the last few years and we're seeing more people paying attention to Canberra and a lot of new development happening. It's a growing city and the government continues to spend and invest in the infrastructure and projects that are going to ensure we remain a vibrant city.
In the business sector, I think the recent merger of the Canberra Business Council and the Chamber of Commerce has created "one voice for business" in the region, which is a very positive step. So I think, when you look at both the business community and the public sector, we are going to go from strength-to-strength.
[Lucille] The OECD has called Canberra the most liveable city in the world so, for me, the future of Canberra is really going to come down to how we seize the opportunities in front of us.
The business world is changing. I think if you look at some of the more innovative organisations around the globe today, the ones that are driving growth in new areas, it's clear that it's no longer necessary to have physical assets or manufacturing capabilities to be able to create something of value. Governments too are looking for different ways to deliver better services, and more of them, through contestability and working more closely across the public and private sectors.
Human capital is going to be one of the most valuable assets for businesses in the future. There is an opportunity then for Canberra, as a business hub and the centre of government, to reinvent itself and become a leader, not only in Australia but globally.
I think if you take government's policy leadership and combine this with the business acumen of the private sector, the power of human capital and the innovation of start-ups and small businesses, there is a huge opportunity for Canberra to drive sustainable growth that is leading edge and creates value on a global scale – it's the biggest challenge and the biggest opportunity.
Disclaimer: The views expressed in this article are the views of the author, not Ernst & Young. The article provides general information, does not constitute advice and should not be relied on as such. Professional advice should be sought prior to any action being taken in reliance on any of the information. Liability limited by a scheme approved under Professional Standards Legislation.
121 Marcus Clarke Street, Canberra, ACT 2600, Australia
Phone: 02 6267 3888 www.ey.com