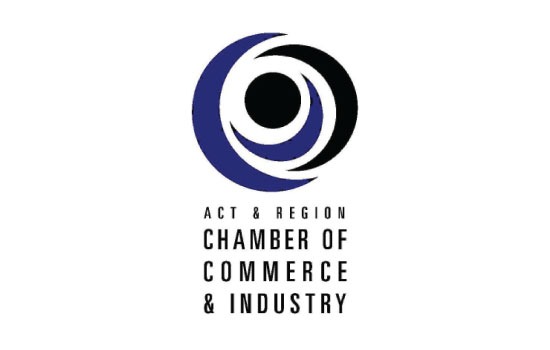 The ACT & Region Chamber of Commerceand Industry has been serving the businesscommunity in the ACT for almost 80years. As the 'Voice of Business' in the ACT,the Chamber represents the business perspective and advocates for local and regional businesses on current and emerging issues affecting them. TheChamber provides members with a range of services to help them meet the challenges facing business today and help them succeed.
The passing of Dr Chris Peters, who led the Chamber for more than fifteen years, has had a bigimpact on the business community in general, butespecially on the staff and Board of the Chamber. Hehas left big shoes to fill, but our team is determinedto carry on with the work that Chris under took.
The Chamber will continue to participate inrobust discussions with government, ensuringthat the interests of our members find a voiceand that business in the ACT remains strong andresilient. Staff from our Workplace Relations andEmployment, Education and Training teams arein regular contact with both policy and executivearms of government and are always happy forthe feedback we get from members as it allowsus to strengthen our message, and ensure we are representing members accurately.
Workplace Relations members of the Chamberhave access to a specialist Workplace Relations teamthat provides business-specific services focusedsolely on the needs of the employer. Services include Industrial Relations, Human Resources, WorkHealth & Safety, Industry Awards, Individual Flexible Workplace Agreements and Enterprise Bargaining Agreements.
The Employment, Education and Training teamare delivering two programs to support educationand training in the ACT, as well as representing theinterests of members in the education and trainingsector and supporting workforce development programs. The Education and Training Adviser assists employers to find solutions to theiremployment needs by providing information aboutall aspects of the national training system andincentives available to employers and employees,as well as advising government on issues arisingfrom the implementation of the system. The Readyprogram is part of the Commonwealth's SchoolBusiness Community Partnership Brokers programand supports partnerships that lead to increasedattainment of year 12 or equivalent qualifications,and enhance young people's transitions into theworkforce. Employers are encouraged to take a longterm view of their workforce needs, and contact theChamber's Partnership Brokers to help them engagewith young people in a way that will support their attainment and transitions.
Each fortnight our Chamber News ensuresmembers are up-to-date with information relevant to the way businesses operate in the ACT andregion. For those with an interest in educationand training, the Ready Read provides a digest ofopportunities and events that help to ensure young people are engaging with education, training andcareer pathways.
And of course our events will continue toprovide a platform for members to get to know other members with common interests andchallenges, promote their business and get to knowthe staff who support them behind the scenes. TheChamber's Annual Dinner will be held in May, andwe will be celebrating businesses that have survivedand thrived for an extended period in Canberra orthe region. Other regular events continue, includingthe monthly Business After Business networkingfunction, Federal and Territory budget forums,Young Business Network and Women in Business events.
Members will always find Chamber staff andBoard members with an open ear at these eventsor at the end of our phone line, and are encouragedto speak up about issues having an impact on theirbusinesses. There is strength in consolidating thesemessages, and the Chamber will continue to work torepresent the interests of the business community inall of our interactions and efforts.
As the Chamber approaches its 80th year, weexpect to see the business community in Canberrago from strength to strength. We'll be there totake the journey with you, supporting the business community.
Greg Schmidt, Director, Workplace Relations ACT & Region Chamber of Commerce & Industry