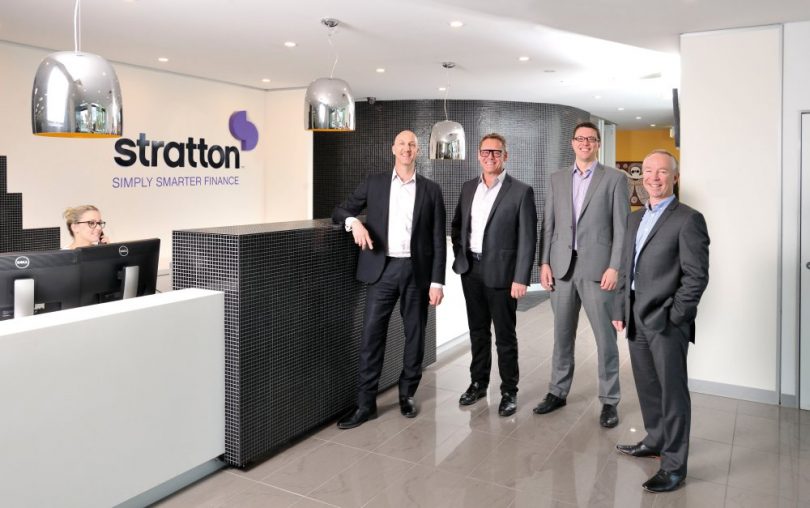 From left to right Justin Jacobs, Rob Chaloner, Mat Walkerden and Damian Hardy.
stratton.com.au, Australia's largest consumer vehicle and asset finance broker, has today launched a disruptive play at the salary packaging and novated leasing industry, introducing a new product initiative that promises real benefits to employers and drivers alike and much needed transparency.
Newsletter
We package up the most-read B2B Magazine stories and send direct to your inbox. Subscribing is the easiest way to keep up, in one hit.
stratton, which is majority owned by ASX 100 carsales.com Ltd, will be offering full disclosure of all components such as vehicle price and interest rates with its novated leasing product; items which are commonly not disclosed by other novated companies in a sector that is completely unregulated and offers only limited protection to consumers.
Rob Chaloner, founder and CEO at stratton, says, "stratton intends to disrupt this industry where three major players currently exist. These companies have the oligopoly and they're commonly making exorbitant margins from novated vehicle packaging; it's unfair to employers and novated drivers, aka employees, alike".
"We're going to change this and act differently. As Australia's largest consumer vehicle finance broker we intend to use our scale to bring real benefit and transparency to employers and novated vehicle drivers by shaking things up with transparent behaviour and investment in innovative technology," said Chaloner.
Currently, novated leasing in Australia is supplied by three major companies who have an oligopoly on the industry.
"This is a major issue for employers who are tempted to provide this pre-tax employee benefit, however the lack of transparency and large profits being made from the tax benefit – a benefit that should flow to the employee as intended – often results in the employer becoming rightly suspicious and thus not wanting to participate.
"This is unfortunate, as packaging a vehicle is a great way for hard-working Australians to benefit greatly from this legitimate opportunity," said Chaloner.
Additionally, novated leases are classified as a commercial finance product even though end users are consumers. stratton believes the end user should dictate protections and receive full disclosure and transparency like that of a consumer loan. As such, stratton has introduced protocols to ensure customers receive the same level of disclosure as they would be entitled to under the National Consumer Credit Protection Act (NCCP).
Packaging providers obtain large fleet discounts on vehicles, but rarely are they passed on to the customer. stratton will be leveraging its online car-purchasing platform carconnect.com.au to supply vehicles and pass on 100 per cent of the discounts received. The only charge is a fully transparent service fee of 1 per cent of the vehicle price.
By comparison, a fleet discount is commonly 10 per cent of the vehicle price, which is often pocketed by novated packaging companies and while the driver is charged a retail price of the vehicle.
"We're operating independently of industry practice and behaving as though the industry is regulated – because this product should be totally transparent to consumers. Our quotes will fully disclose the purchase price of the vehicle leased, the total financed amount and the interest rate.
"Current practice uses complex quotes that are difficult to understand, contracts that do not offer full disclosure of vehicle prices or interest rates and all too often poor customer service that sometimes doesn't communicate how much customers are actually borrowing.
Industry operators are under no legal obligation to disclose items such as interest rates and the true cost of vehicles – something which Chaloner says is, "utterly deceiving, because as a result it means there is a complete lack of transparency.
"We have many examples where our quotes for a vehicle package are hundreds of dollars cheaper per month compared with the competition, which we pass on to our clients," said Chaloner.
There's a common myth associated with salary packaged vehicles that the beneficiaries of a novated lease are well-paid senior and executive level management who gain the true benefit from this salary sacrifice. In reality it's a different story – with drivers of these vehicles often moderately paid teachers, nurses, government workers and middle management who use a novated lease to help stretch their pay, and provide a reliable safe vehicle to their families.
"Consumers often don't know how much they have borrowed, yet it is justified by a novated packaging company because it is deemed a pre-tax salary benefit. In truth, the novated packaging provider is the one who sees the true benefit, not the novated driver.
"Regardless of the fact the sector is unregulated, we don't want to see major companies continuing to take advantage of consumers and pocket the cost and tax savings that should be passed on to them. We want to make leasing fair to consumers, who are the end users," said Chaloner.
With powerful weapons in its armoury such as transparent practice, industry innovation and state of the art technology, stratton continues to disrupt an industry of 'minimal choice' to truly walk the talk of their business and values.
ASPIA recently questioned whether stratton was a disruptor in the Sydney Morning Herald1 – saying to consumers, "we will let you decide". stratton would also like consumers to decide this.
stratton remains at the forefront of innovation because of its different way of thinking, speedy adoption of new technologies, and ensuring it continues to provide exceptional deals and unrivalled service to its customers.
For more information on stratton's novated leasing product, please visit www.stratton.com.au/novatedleasing or call 1300 242 280
1 2016, Sydney Morning Herald, Novated leasing market criticised for withholding true costs from customers, Accessed 27 October, http://www.smh.com.au/business/ consumer-affairs/novated-leasing-market-criticised-for-withholding-true-costs-from-customers-20161025-gsabea.html
About stratton:
stratton is Australia's largest asset finance broker, providing finance for cars, commercial and leisure vehicles, business equipment and a large range of other products to over 10,000 customers each year. Since the company's inception in 1998, stratton has experienced rapid growth across the country and now employs over 200 people nationally. The company's success has largely been driven by its focus on technology and personalised customer service. With over a million visitors per year, www.stratton.com.au is now one of the most highly-used asset finance portals in Australia. In 2014, stratton joined CarSales, Australia's largest classifieds network. For more information please visit www.stratton.com.au.