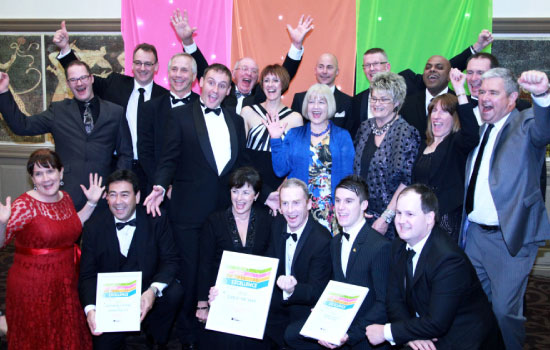 The Southern Cross Club Woden won the prestigious Large Club of the Year Award at the recent Clubs ACT Awards for Excellence Awards.
This award capped off an incredibly successful night for the Canberra Southern Cross Club – winning six industry awards and its outstanding Tuggeranong Club employee, Ryan Spiteri being recognised as the Young Achiever of the Year.
The Club's swag of awards also included Community Assistance (Woden); Best Conference & Event Centre (Woden);Member Services (Woden); Responsible Gaming & Gaming Facility (Tuggeranong);and Outstanding Club Governance (Jamison).
"We're absolutely delighted to have been recognised as the Large Club of the Year in front of other ACT clubs," Canberra Southern Cross Club President, John Lewis said.
"Canberrans do have a great selection of clubs to choose from and we're extremely proud that the Southern Cross Club Woden has taken out the top industry award in 2013.
"Mr Lewis said that the Awards belonged to the Southern Cross Club's members who patronise its venues and without whom the Club's success would not be possible.
"These Awards also show case the exceptional commitment of our staff to providing great member service at our venues," Mr Lewis said. "It is the eleventh year that the Club has won the Member Services Award which is an incredible feat.
"The Southern Cross Club Woden also won the Best Conference and Event Award for the second year running for its stunning state-of the-art event centre facilities.
"Finally, the Canberra Southern Cross Club is so proud of the achievements of Ryan Spiteri who is a Supervisor at our Tuggeranong Club, former Club Management Trainee, and 2012 World Skills winner. Ryan is a shining example of the career heights which can be achieved by young people within the club industry."
For more information, visit cscc.com.au