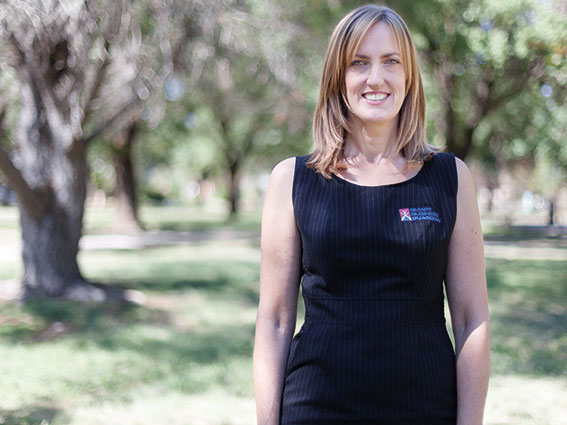 Kristin Miller, founder of Smart Business Guardian and Trade Guardian, has to be one of the most qualified business administration professionals in Canberra.
Kristin is the 'smart' in Smart Business Guardian. In fact, she has the following list of impressive qualifications:
Masters of Professional Accounting
Masters of Business Administration
Bachelor of Administration
Graduate Certificate in Employee Relations
Certificate IV in Bookkeeping
And to top it off she is currently completing the CPA program.
Kristin founded Trade Guardian in 2009 when she saw a niche in the market for a service to assist hard working trades people in the building and construction industry with their bookkeeping and administration (this has now expanded to include Smart Business Guardian as her client base continues to expand).
Newsletter
We package up the most-read B2B Magazine stories and send direct to your inbox. Subscribing is the easiest way to keep up, in one hit.
"Many tradespeople spend their days working on sites and in the sun and their evenings catching up with their quoting, invoicing and paperwork," Kristin explained. "I have found that this is also the case for many start-ups and small businesses across most industries," Kristin explained.
After finishing her first degree and working in various public service departments for most of the 90s, Kristin took a redundancy and went back to study a Graduate Diploma in Employment Relations.
After a stint in the ACT Government Kristin stopped working to have her second child in 2008 and went back to complete her MBA.
"The timing of my return to postgraduate study was quite amusing when I look back at it. There were a few quizzical looks each time I would duck out of class to take care of a 5 week old newborn!"
The catalyst for starting her business was in 2008 while assisting her Dad's painting business, with administration in 2008.
"I created a bookkeeping process for my Dad's business to get him up to date with his reporting. I assisted with marketing, quoting, invoicing, chasing debtors and booking in jobs. I could see the immediate impact it had on the business," Kristin reflected.
Trade Guardian has become an established and strong brand amongst the trades and assists many: scaffolders, builders, carpenters, cabinet makers, electricians, developers, plumbers, plasters, painters, glaziers, and roofer, with their bookkeeping and administration.
"Now, in 2016, because almost half of our clients are a broader ranges of businesses, we have introduced our Smart Business Guardian brand," Kristin said.
We now also cater for entrepreneurs, small business owners and start-ups including: health professionals, podiatrists, chiropractors, personal trainers, restaurants and caf s, music schools, dancing schools, farmers, framers, bakers, financial advisers, insurance and not for profit associations and retail outlets.
"What we do takes the administrative pressure off business people and also enables us to become a sounding board in how they run their business."
"I love looking into a business, seeing how it runs and helping to make a difference," Kristin stated.
Kristin's business moved into offices in Canberra Technology Park in Watson in November 2014 and has grown to five full time staff.
"We are the trusted name in business administration support across the Canberra region. Our culture of being true business 'guardians' is what sets us apart" Kristin said confidently.
Kristin said one of the ways for her clients to get the most out of guardian experience is to form strong three-way relationships with their accountants. Together, this joint approach ensures strong bookkeeping and compliance while flagging issues that might arise in their client's business during the year.
"Accountants love referring their clients to us for their bookkeeping. The value to them is a clean set of accounts at the end of the year without any surprises," Kristin outlined.
Kristin Miller is not only the 'smart' in Smart Business Guardian, she is also passionate about seeing her client's businesses flourish!

+61 (0)2 6162 1187
49 Phillip Avenue, Room C205,
Watson, ACT 2602
smartbusinessguardian.com