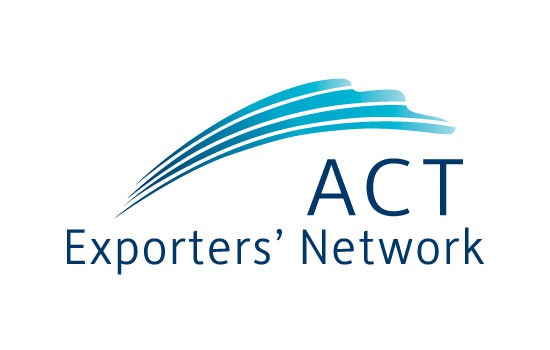 Exporting requires a strong risk profile, a great deal of energy and enthusiasm, and a damn good plan.
To facilitate developing the capacity of exporters a partnership has been formed between the ACT business community and the ANU College of Business and Economics to promote work integrated learning for ANU undergraduate and postgraduate coursework students, and to assist ACT businesses to develop robust international business plans.
The competition, now in its third year, has been highly popular among ANU students and attracted strong support from the ACT business community. In this competition, around 30 teams of ANU students compete against each other to prepare the international business plan for six SMEs (5 teams per firm). To date, 16 SMEs from the ACT and NSW have participated in the competition as live business clients, including members of the ACT Exporters' Network and previous winners of the ACT Chief Minster's Export Awards such as Datapod and XP Solutions.
Newsletter
We package up the most-read B2B Magazine stories and send direct to your inbox. Subscribing is the easiest way to keep up, in one hit.
Ms Lisa Materano, Managing Director of Blended Learning International, noted "The International Business Plan Competition has been a wonderful experience for us. The process was seamless, very well organised and the students particularly enthusiastic in their learning and the application of this learning. The combination of practical exposure with clearly rigorous and structured academic learning is all too rare and yet worked so well in this program. We were so pleased with the linkages developed under Dr Lu's guidance that we currently have interns from this program."
Mr Ted Philpott, owner of York Foods, stressed that his involvement in the 2012 competition was very worthwhile. "There were many benefits to us as a small food manufacturing company located in Goulburn to have students from the ANU look at possible overseas markets for our Gourmet Cooking Oils", he said. "We found that we learnt a lot more about the future of our products in the overseas marketplace by our interaction with students and staff and we hope to put some of those concepts into reality over the next twelve months."
The 2013 competition has officially commenced, with the involvement of six clients:
* the Australian Business Academy,
* Contentgroup,
* DAMsmart,
* Freedom Foods,
* the Royal Australian Mint,and
* XP Solutions.
Each organisation presents ANU students with unique business challenges that require them to research, synthesise and analyse the potential values of various export markets for future growth. Through these industry-based learning opportunities, students will be better equipped for their participation in the professional workforce.
The ACT Exporters' Network Manager is pleased to be supporting the ANU International Business Plan Competition. The network views this as a great opportunity for both businesses and students to collaborate. The ACT business community is a very well networked environment that is always keen to engage with innovative and entrepreneurial students.
Dr Vinh Lu is currently in dialogue with the Export Council of Australia to bring the International Business Plan Competition to a national level in 2014 by seeking interest from likeminded academics at other institutions.
Come to the ACT Chief Ministers Export Awards this year!
If you are involved with exporting and international business, then please consider the advantages that being involved with the ACT Exporters' Network provides. To find out more information about membership of the ACT Exporters' Network and to take advantage of the benefits please contact the Canberra Business Council on 02 6247 4199, or Email:
[email protected]
Canberra Business Council welcomes the support the ACT Government provides to the ACT Exporters' Network, as part of the Global Connect Initiative.
The ACT Exporter's Network works with exporters from the Canberra region, to build opportunities in overseas markets. If you require assistance, would like to be involved in our events, or find out more about the Network, please visit our website (www.actexportersnetwork.com.au) or contact Ellen Pope,
[email protected]
canberrabusinesscouncil.com.au or 02 6247 4199