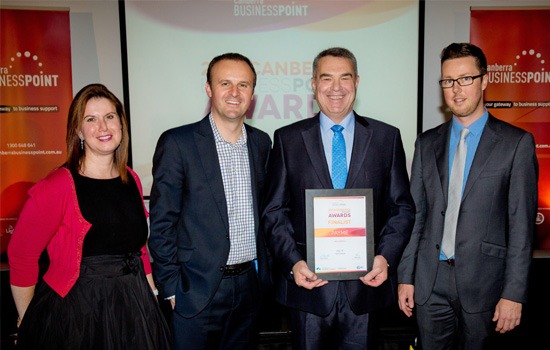 Canberra business PayMe Australia has been recognised for its innovation and growth in the field of specialised payroll management by winning the inaugural Canberra BusinessPoint Business of the Year award.
PayMe Australia, a contractor payroll management company, was originally formed to support the payroll needs of IT contractors in the ACT. Today PayMe provides specialised services to the IT, administrative, gas and oil sectors nationally. It was chosen as the 2013 Canberra BusinessPoint Business of the Year after winning the High Growth category at the 3rd annual Canberra BusinessPoint Awards held at the National Portrait Gallery.
Finalists and winners in the 2013 Canberra BusinessPoint Awards were announced across six categories which recognise both the diversity of start-ups and existing firms in the ACT and the innovation, effective business planning and future potential of these enterprises. The major prize of 2013 Canberra BusinessPoint Business of the Year was presented by Minister Andrew Barr.
The winners in each category were:
* Web and Mobile – SimplyShow.me
* Clean and Green – Envirolove
Newsletter
We package up the most-read B2B Magazine stories and send direct to your inbox. Subscribing is the easiest way to keep up, in one hit.
* Bricks and Mortar – Autolyse
* Creative and Design – Handmade Canberra
* Micro-enterprise – Ontong Patafta Bernal Football Academy
* High growth – PayMe Australia
Chris Faulks, Canberra Business Council CEO, and Anna Pino, CEO of the Lighthouse Business Innovation Centre, said the high standard of entries in this year's Awards is very encouraging for the future of business in Canberra.
"Canberra BusinessPoint Awards this year demonstrate that the ACT is an excellent incubator for successful small businesses", Ms Pino said.
Ms Faulks added that the calibre of finalists and winners not only reflects the success of each of these companies but the high-quality assistance being provided to new and growing businesses by Canberra BusinessPoint.
This was backed up by the CEO of PayMe Australia, Ian Lindgren, who said "The Canberra BusinessPoint program has been invaluable"
"Regular strategic updates and focused business workshops has encouraged change and development on an ongoing basis for PayMe," Mr Lindgren Said.
Canberra BusinessPoint had over 1200 businesses come to it for assistance or advice in 2013 alone and over 3000 since its relaunch in February 2011. It offers practical advice and support for both existing businesses and those intending to start a business in Canberra. Through mentoring programs and one-on-one consultations,Canberra BusinessPoint provides tailored and specific advice, allowing local businesses to reach their full potential.
Winners and Finalists | 2013
WEB AND MOBILE
Winner
SimplyShow.me | simplyshow.me
SimplyShow.me (SSM) is a private and secure, web and mobile, video messaging service allowing professionals to share their experience and expertise with their clients and co-workers. SSM allows professionals to have full control over who receives their content and this allows them to protect their intellectual property, and monetise their skills and expertise. SSM is currently servicing the health and fitness, financial services, and corporate training sectors.
Finalists
EEP!
Imagine Team Pty Ltd
imagineteamsolutions.com
CLEAN AND GREEN
Winner
Envirolove | envirolove.com.au
Envirolove implements environmental solutions into ACT businesses. Their main service is organic waste recycling, providing this service to large, complex businesses or workplaces, where a customised solution is required, and also empowering managers and staff to create a long lasting solution. Envirolove continues to service a varied range of businesses. In 2011, they extended their services to environmental consultation, supporting recycling in businesses and also working on projects for ACT government departments. In 2012/2013 they developed an interactive software practice currently used by departments in the ACT to train staff on workplace recycling.
Finalists
Purepod
www.purepod.com.au
Rolfe Cleaning Services Pty Ltd
www.mmrcs.com.au
BRICKS AND MORTAR
Winner
Autolyse | autolyse.com.au
Sour Dough bakery/patisserie cafe serves interesting meals based around their sour dough and prepare everything in full view of their customers. Autolyse believes this builds an enormous amount of trust with their customers. 90% of their products are sold retail and10% of their turnover is wholesale bread sales to supermarkets. According to Autolyse, their wholesale sales could easily grow by 500% within a month if they had the capacity. This has been addressed through the recent signing of a new lease in the same group of shops which will double Autolyse's floor space.
Finalists
Stripey Sundae
www.stripeysundae.com.au
Flint in the Vines www.flintinthevines.net.au
CREATIVE AND DESIGN
Winner
Handmade Canberra | www.handmadecanberra.com.au
Handmade Canberra is a specialised retailer with a twist. Handmade Canberra is made up of the Handmade Market and Shop Handmade. Both the Market and Shop carry only high-quality, Australian-made products produced by local, regional and interstate designers. Their mission statement perfectly reflects their aim of "Connecting the designer to the customer", local and visiting, through Shop Handmade and the Handmade Market. The Handmade Market is quarterly with more than 150 local and interstate designers, attracting 20,000 customers to each event. Shop Handmade brings together over 170 local and interstate artists, designers, craftsmen and gourmets all in one beautiful retail space.
Finalist
Canberra Academy of Dramatic Art
www.cada.net.au
Big Ice Cream
www.bigicecream.com
MICRO-ENTERPRISE
Winner
Ontong Patafta Bernal Football Academy
Ontong Patafta Bernal Football Academy is a new, dynamic and exciting football academy providing football education, development and a proven pathway for all children in Canberra. They are there to help every individual take their football to the next level. From the kid just starting out to the very elite players of Canberra football, Ontong Patafta Bernal Football Academy caters for all development levels. It's the little extras that make all the difference to ensure players give themselves every possible chance of living the dream!
Finalists
White Knight Unmanned
Aerial Systems Pty Ltd
whiteknightuas.co
Sly Fox Coffee
HIGH GROWTH
Winner
PayMe Pty Ltd | www.payme.com.au/
PayMe Australia provides specialist payroll services to contractors throughout Australia primarily in the information technology, administrative, and oil and gas sectors. They have further developed the PayMe Brand to provide, individual tax returns and novated car leasing. PayMe will only provide the services that the can be the best at, not just the same as everyone else, but provide a real differentiation from the competition.
Finalists
Your Bread Company Pty Ltd
Cloud Central Pty Ltd
http://www.cloudcentral.com.au/