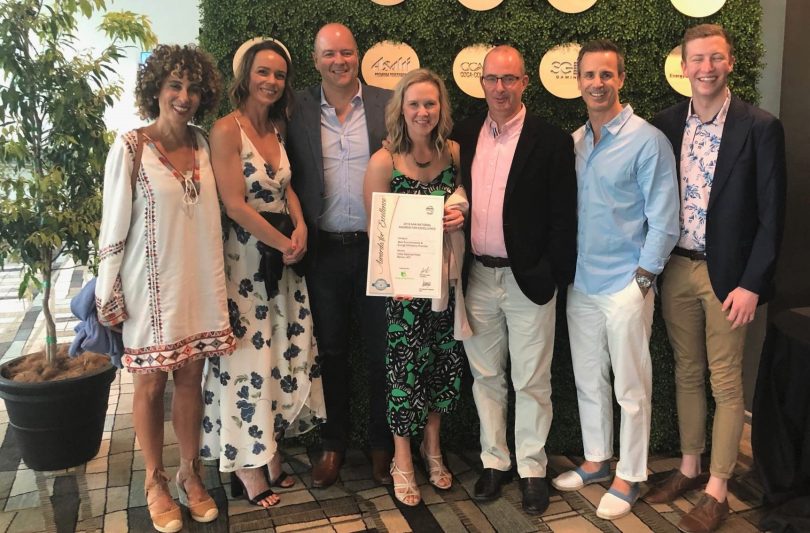 Canberra's "unique" Little National Hotel has been named Australia's most environmentally sustainable accommodation hotel.
The innovative 120-room building won the Best Environmental and Energy Efficiency Award at the Australian Hotels Association (AHA) National Awards for Excellence last Monday (September 17) at a prestigious ceremony on the Gold Coast.
Located in Barton and owned by Doma Hotels, Little National – the only ACT-based winner at the annual hospitality Awards event – was rewarded for being paperless, having 100 solar panels on the roof and using recycled toiletries.
"Little National is so unique and we're always trying to set our own benchmarks," Director of Doma Hotels Patrick Lonergan told The RiotACT.
"Winning a national environmental Award is a pretty good thing for our hotel and for Canberra. Sustainability is always important to us and it's important to our clients as well."
Mr Lonergan – who also oversees several other Doma Hotels across Canberra and interstate – said environmental practices were vital when dealing with major companies and suppliers as they also "focus on sustainability and want to deal with people and businesses that share those same values."
Newsletter
We package up the most-read B2B Magazine stories and send direct to your inbox. Subscribing is the easiest way to keep up, in one hit.
Since opening in 2015, the environmentally-savvy and sophisticated Little National – which combines five-star finishes with smaller rooms to create "affordable luxury" – has been paperless as well as been using recycled soap shampoo and toilet paper.
"We also have over 100 solar panels on the roof," said Mr Lonergan, which produce more than a third of the power used at the hotel.
"Although we don't set out to win [environmental] Awards – we want to do what we could to be more sustainable which has translated to our other [Doma] hotels."
Mr Lonergan said all of the Doma hotels have now gone paperless and are embracing environmental best practice standards.
"People certainly take notice of us now and people certainly know about the Doma Hotels group," Mr Lonergan said.
The hotel recently won the Corporate Award at the ACT Smart Sustainability Awards and also won several Awards – including Best Environmental Practice – at the 2018 AHA ACT Hospitality and Tourism Awards in Canberra.
Little National also won Best Midscale Hotel at the recent 2018 HM Awards for Hotel and Accommodation Excellence on September 7.
"The hotel has had a good run recently," said Mr Lonergan, who highlighted the strong growth and success of the Doma brand in Canberra and in other capital cities.
Doma also plans to unveil a major renovation and refurbishment of the Hotel Realm and its conferencing facilities early next month.
Original Article published by Brad Watts on the RiotACT.