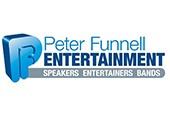 "Motivation", "Loyalty", "Drive", "Determination", "Goals" are words that often describe today's business success, and for over 40 years I have built one of Australia's most comprehensive stables of motivational speakers and entertainers, for your next business function.
From staff sales training sessions, to conventions and corporate presentations, the right guest speaker, or entertainer, can make your next event stand out above the rest.
My clients range from local businesses to major corporations and I have managed events ranging from 20 guests to major international conventions. In each B2B I'll describe a couple of the acts I represent, but ideally, if you contact me I can tailor the perfect performer to your function & budget.
One such example is Steven Bradbury – the perfect performer, MC & speaker for your function.
Steven collected the most unlikely, unthinkable gold medal in the history of the Olympics.Australia's firstWinter Olympic Gold medal ! Steven tells anamazingly inspirational story of triumph over adversity, ofhow he underwent years of obsessive training, pain,setbacks, sacrifice and life threatening injuries and of how he armed himself with the information and tools he needed to achievethis amazing success.Steven has spoken at over 800 conferences and events in 15 countries. Steven knows his way around a stage like he used to know his way around an ice rink. He loves that his strategies for success in business and in life now inspire and help so many.
An example of entertainment at it's best is The Boys in the Band
The International hit show; 'Boys in the Band' is one of the most successful concert and corporate shows to come out of Australia in recent history. This amazingly versatile, highly polished and audience interactive show features over 50years of tunes and medleys of the biggest hits the world has ever known.
Boys in the Band have enchanted audiences right across the globe performing a two week season at The Mandela Theatre in South Africa where critics labeled them "a cut above the rest", followed by their hugely successful first Australian tour in 2014 which included shows at the prestigious Arts Centre Melbourne and the Playhouse theatre in Canberra.
Backed by their sensational live band 'The Players' or fully orchestrated backing tracks, Boys in the Band cast members will leave your guests spellbound

Peter Funnell's knowledge and experience in servicing the Canberra region has no peer.
Corporate and government events, conventions, seminars, outdoor festivals, private
functions, and entertainment to meet your requirements perfectly.
Go to www.funnellentertainment.com.au | Email:[email protected]
or Phone: 02 6251 5452 | Mobile: 0412 620 310