"Mobile is not the future, it is the now. Meet your customers in the environment of their choice, not where it is convenient to you." Cyndie Shaffstall, Author, Public Speaker, Entrepreneur.
'Mobile' now transcends practically everything and the trend will only continue to grow.
Businesses must ensure they have an impressive presence in the mobile space.In essence, mobile marketing is omnipresent,cheaper,more measurable and more convenient for consumers than traditional marketing.
The trouble is there is a proliferation of different mobile channels, devices, interfaces, as well as extreme competition to capture the consumer's attention, amidst exploding data volumes that make it difficult for a consumer to get a handle on the right information,to make the right consumer choice.
How then can you 'cut through' to get your message out there?
Well it's not easy. Mobile commerce is still so fresh and fast moving that even big companies struggle to develop a mobile marketing strategy.
Marketo, a marketing automation and software business, polled more than 2,200 consumers across the US, UK, France, Germany and Australia, and found that almost two thirds (63%) of respondents were annoyed at how brands continued to rely on a strategy of blasting generic advertise in messages repeatedly. It appears consumers are more attuned to brands talking to them personally.
But achieving that will require some significant changes in how businesses operate. Businesses are not structured to have that one-to-one experience with customers.
But consumers want a digital experiences that is simple, engaging and personalised, without infringing on their privacy.
One approach which fits neatly within this message is to use "mobile" sports marketing to sell goods and services. Sport works well on mobile and the message can be readily personalised to the fans.
Sports marketing works because marketers can associate their product with the fan's team and/or beloved athletes. This can gain the good or service instant credibility in that fan's mind.
A major disadvantage is that the sports marketing industry is so large that it can be hard to stand out in the crowd. A fan who watches a two hour football game will be exposed to dozens of different marketing messages.
It may make sense not to risk this by concentrating marketing efforts, where practicable, on a sporting niche overlooked by others. You can then personal the message and get a clear run at supporters, without the usual competition. Better yet if the supporters fit neatly within your target market.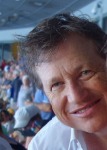 For more information, contact Paul Smith,
Secretary and Chief Financial Officer of Yabba.Guru
on 0401 400 779 or go to www.yabba.guru