Planning for the future is an important part of our lives, part of which includes your future housing needs. Where do you want to live and what facilities will you require?
So bearing this in mind should I buy an investment property now that I can move into? Naturally being able to make decisions for your future needs as soon as possible is very prudent and will hopefully eliminate future stress.
What points do I need to consider?
Obvious one is budget. Can I afford the home I desire in the future? Before you fall in love with the perfect property and then realise it is out of reach, discuss your finances with an appropriate professional e.g. mortgage broker, or your accountant. Importantly this property will be an investment until you are ready to occupy so factoring in the associated costs and benefits is very important. Part of this planning is future costs like refurbishing kitchens and bathrooms prior to occupying.
Looking at a property through investor eyes is often different to thinking about your own needs. An investment will be based around potential tax benefi ts, income depreciation, potential capital growth and suitability for a quality tenant.
Newsletter
We package up the most-read B2B Magazine stories and send direct to your inbox. Subscribing is the easiest way to keep up, in one hit.
Always important to understand who will be your potential target market and what type of tenants will be attracted to the property. Whereas your needs may vary greatly to that of a tenant- you may not be comfortable living in a mixed use residential complex, yet tenants are. Do I need a garage or shared underground parking? Will you use a pool, gym or extra facilities? Anticipating your future needs and lifestyle is very challenging as your needs and wants can vary from time to time. Often buyers will say to me that "they could live here", but will that be the case in ten years' time when they need the property.
Location is a major factor in considering where to live in the future. Unfortunately, as we age our capacity to drive is reduced and anticipating this should probably be in the planning. Choosing a property where I can live close to facilities or transport would be a huge advantage. In this process there will be a need to priorities facilities you must have and those you can compromise on. This may mean forgoing certain aspects to ensure you secure the right location which in the long run will have a huge advantage to your lifestyle. Whereas some people may see space for a hobby as the priority, what are your needs?
So I don't believe there is a right or wrong strategy as we are all different. Yet planning as early as possible certainly has merits and may be aided by buying an investment that gives you options for the future. It may not be perfect but is an ideal investment giving you the option to upgrade when required. If you find that your needs or style have changed you can sell your well maintained, attractive investment property to purchase what is now the ideal property for your lifestyle. More importantly a property that suits you.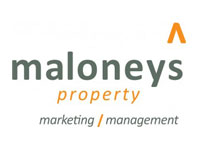 Contact Maloney's on 6232 0100
[email protected]
www.maloneys.com.au