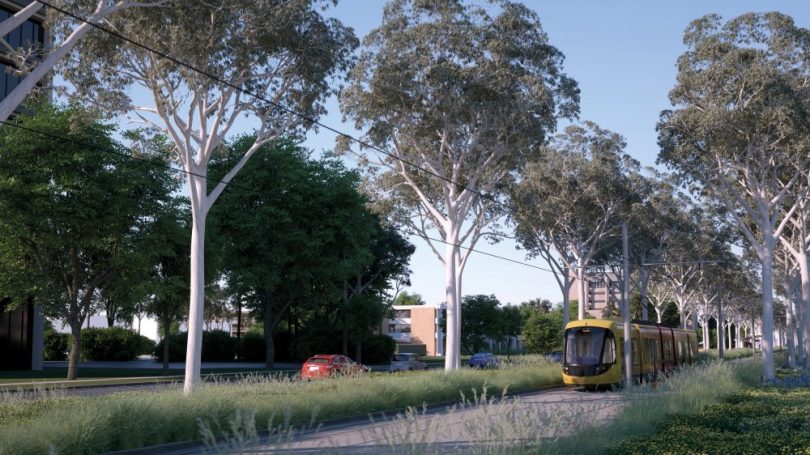 The re-elected Labor Government will take light rail to Woden via the Parliamentary Triangle.
Work will begin immediately on developing this route, with construction contracts to be signed in the next term of government.
Extending light rail to Woden will create a north-south spine for our public transport network and critically, it will get light rail across the lake. Buses, bikes and walking routes and later stages of light rail will feed into this spine, making it even easier for Canberrans to get where they need to go.
Just as the first stage is about much more than transport and is already revitalising the Northbourne corridor, stage two will continue the renewal of Woden, where the town centre is already benefiting from the ACT Government relocating more than 1000 public servants.
Our population is growing and if we are to avoid becoming gridlocked like Sydney, we need to keep working on building our light rail network now. Our transport plan will improve our public transport system so it becomes more convenient, efficient, affordable and reliable – a genuine alternative to driving.
Investment in major infrastructure projects also helps drive investment and economic activity into the city. Stage one of the light rail network attracted multinational investment into our city, and will create 3,500 jobs. This investment and job creation will continue with stage two of the network.
Newsletter
We package up the most-read B2B Magazine stories and send direct to your inbox. Subscribing is the easiest way to keep up, in one hit.
The route to Woden is one of five priority stages of the core light rail network, with Gungahlin to the city under construction and extensions to Belconnen, Canberra Airport and further into the Parliamentary Triangle to be built next.
Andrew Barr
Chief Minister | Treasurer | Minister for Economic Development | Minister for Tourism & Major Events
www.andrewbarr.com.au