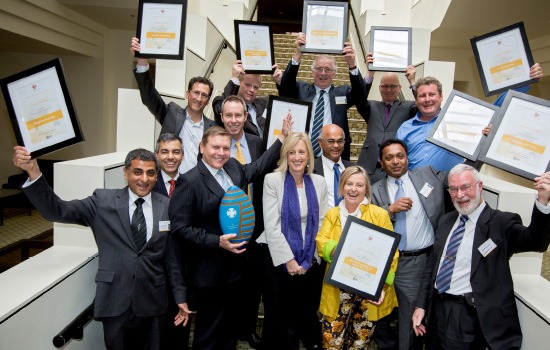 Protecting troops on the frontline in Afghanistan is just one project led by the 2013 ACT Exporter of the Year, Aspen Medical – whose exports rocketed to $44million in 2012-2013.
The Canberra-based healthcare provider was crowned Exporter of the Year for the third consecutive year during the ACT Chief Minister's Export Awards Luncheon at the Hyatt Hotel on September 26 – a rare achievement recognising the company's outstanding achievements.
In 2012-2013, Aspen's exports jumped 16% from the previous year, representing almost 20% of the company's total turnover. During this time, its worldwide revenue more than doubled and its team doubled in size. The company also won the Health and Biotechnology Export Award.
Aspen's incredible growth reflects the strength of Canberra's exporting industry, which is increasing by more than 9% a year – the highest rate of growth in the nation.
"Aspen is a key player within the Territory's vibrant exporting community; for the company to win ACT Exporter of the Year three times in a row is an extraordinary accomplishment," said Chris Faulks CEO of the Canberra Business Council.
"The prestigious Awards recognise the vital services ACT companies provide to clients throughout the world using our country's capital as a base.
Newsletter
We package up the most-read B2B Magazine stories and send direct to your inbox. Subscribing is the easiest way to keep up, in one hit.
"Congratulations to all our winners – the variety of the services they provide demonstrates the diversity and vibrancy of the export industry here in the ACT."
Aspen's recent projects including providing medical equipment to countries in the Middle East which enables army medical battalions to deploy health care facilities in remote locations in less than 20 minutes.
Glenn Keys, Aspen's Managing Director, said: "The entire team at Aspen are delighted to have been awarded the Exporter of the Year in 2013, especially considering it was our third year in a row.
"The competition in the ACT has always been strong and this year was even more competitive than ever with some great new innovations and emerging companies."
The Export Awards are just one way of recognising the ACT's export success and the contribution local exporters make to Canberra's and Australia's economy and international reputation.
This year's Awards were under the theme '100 years, 100 countries, 100 exporters' and rewarded ACT exporters that are going from strength to strength during Canberra's Centenary year.
The growth of the Territory's export industry is reflected by the addition of three ACT-only award categories this year – the ACT Exporting Government Solutions Award, the Exporting to Asia Award and the Emerging Exporter Award.
The winners of this year's ACT Chief Minister's Export Awards are:
* ACT Exporter of the Year – Aspen Medical
* Agribusiness – Inland Trading Co. (Aust) Pty Ltd
* Business Services – Northrop Consulting Engineers
* Creative Industries – Bearcage Pty Ltd
* Education and Training – University of Canberra
* Environmental Solutions – XP Solutions
* Health and Biotechnology – Aspen Medical
* Information and Communication Technology – Seeing Machines
* Infrastructure and Construction – Windlab
* Small Business – eVALUA Pty Ltd
* Emerging – QuintessenceLabs (ACT only)
* ACT Exporting Government Solutions – Royal Australian Mint (ACT only)
* Exporting To Asia – IE Asia Pacific (ACT only)
Aspen will join Australia-wide category winners as a finalist in the Australian Export Awards, which will be announced in Melbourne in November.
The ACT Chief Minister's Export Awards are an initiative of the ACT Government delivered by Canberra Business Council.
CONGRATULATIONS TO THE 2013 ACT CHIEF MINISTER'S EXPORT AWARDS WINNERS
INLAND TRADING CO specialises in exporting premium quality wine from Australia, New Zealand and South Africa to the world. Inland exported more than 360,000 cases of wine to more than 40 countries in 2012-2013 alone – and grew a staggering 33%.
NORTHROP CONSULTING ENGINEERS provides consulting engineering services across the built environment. The company started in Canberra 37 years ago and has grown to provide services across Australia and export to South East Asia and New Zealand.
BEARCAGE PTY LTD has increasingly moved into the broadcast and transmedia market diversifying the fee-for-service business. In the past three years, it has focused on international television markets, particularly emerging markets.
THE UNIVERSITY OF CANBERRA has a strong commitment to international education. Its Strategic Plan 2013-2017, Breakthrough, gives significant weight to internationalisation. Objectives include building a truly international university that can thrive in the new era of globalised higher education and research.
XP SOLUTIONS is a world-leading provider of software solutions aimed at improving the physical and social environment. The company launched xpdrainage in 2013; an application for sustainable, low impact stormwater design. This product is poised to capture an emerging market.
ASPEN MEDICAL delivers world-class healthcare in remote, challenging and under-resourced environments. Growth is expected to continue as Aspen Medical leverages relationships with Government departments, the resources sector, Indigenous partners and humanitarian organisations in the US, UK and UAE.
SEEING MACHINES was founded in 1997 within the Australian National University when a professor and three students developed a computer algorithm that, through an attached camera, allowed computers to determine a user's eye gaze direction. The company now exports products to 10 countries including Brazil, the Netherlands, and Indonesia.
WINDLAB is a global wind energy company founded in 2003 as a spin out from Australia's scientific research institute, the CSIRO. Windlab sites now represent over 20% of the renewable energy capacity in South Africa.
EVALUA PTY LTD provides online electronic tendering and evaluation software. The company recently signed a contract with the New Zealand Government for the Next Generation Government Electronic Tendering Service (NG GETS) for the next five to 10 years.
QUINTESSENCELABS is a technology leader in quantum science and its application to cyber security. It recently partnered with a joint venture of CBA and CISCO called Agora – a cloud-based service delivery platform that will enable the company to deliver unique technology as a service to international markets.
ROYAL AUSTRALIAN MINT has delivered many international circulating coin projects, culminating in the recent coinage reforms in Samoa (2011-12) and Solomon Islands (2012-13). In 2012-13, RAM achieved $12.9million in export revenue, compared to $14.9million in 2011-12 and $2.9million in 2010-11.
IE ASIA PACIFIC provides niche products, services and solutions that improve the detection capability for military Air Defence Radars and increase safety of civil Air Traffic Control. The company exports products and services to Indonesia, Singapore and Malaysia, with plans to expand into India and Thailand