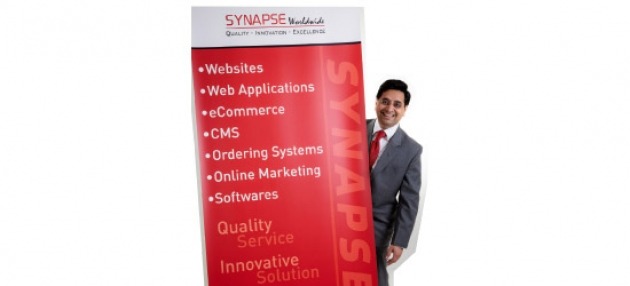 Do you know that there are more people on Facebook today than there was on the entire planet just 200 years ago? We have over 2.5 million 'com.au' domain names in Australia and its growing fast every day. Yet, many businesses are failing to take advantage of the online technologies available today.
Synapse Worldwide, a local Canberra business, specializes in websites. Be it a simple website, ecommerce, SEO, web-applications, mobile or enterprise solutions, they do it all. It was started in 2005 with an aim of making life easy for the business owners. Today, Synapse Worldwide is one of Canberra's leading website experts.
Sam Gupta, Managing Director says "Most other web designers like to push one or two products they like working with. While at Synapse we analyse the entire business, look at the bigger picture, understand objectives and then make suggestions accordingly."
Sam continues; "We look at two key objectives for any business: How can they make money online and save money online. A business can make money by offering ecommerce facilities and secondly save money by systemising and automating their business processes."
Synapse's philosophy is that any business, big or small can save a considerable amount of money by automating their office processes. By systemising time consuming processes, businesses can reduce overhead, minimise human errors, fast track turn-around times, improve customer and employee satisfaction and in-turn concentrate on their core business, rather than the admin."
Newsletter
We package up the most-read B2B Magazine stories and send direct to your inbox. Subscribing is the easiest way to keep up, in one hit.
Abraham Lincoln once said; "It's not the years in your life that count. It's the life in your years." For many business owners, striking a balance between work and life is very difficult. Most entrepreneurs start with the right intentions, but then get too busy with day to day admin. Synapses works with such businesses in improving their website as well as develop custom build applications to help them automate tasks and maximise profits.
For more information contact Sam Gupta, Synapse Worldwide on 1300 785 230 and take advantage of their free one hour consultation to explore the ideas for your business.
Sam Gupta
www.synapseworldwide.com
Sam Gupta is the managing director of Synapse Worldwide. If you would like to discuss how your business can take advantage of the social media, please contact Sam on 1300 785 230 or [email protected]