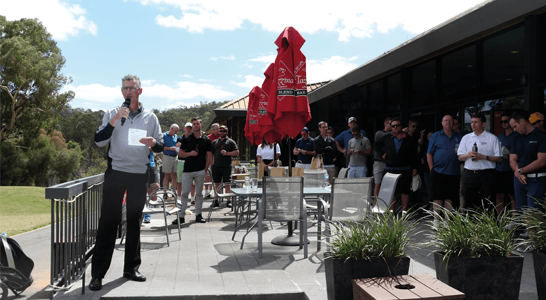 The Annual Charity Golf Day, recently held in March, is Hays Canberra's biggest client event of the year. In 2017, it was held at Federal Golf Club, and is a great way for Hays to thank their clients and to raise money for charity.
"All money raised was in aid of our national charity partner, Make-A-Wish Australia. The event was organised and fundraising spearheaded by Matthew Kelly and Mark Robson with some $6,000+ raised on the day, smashing our annual fundraising target of $5,000," Hays Regional Director, Jim Roy said.
This amount is then matched by the Hays business. When coupled with Hays Canberra's ongoing fundraising, amounts to, more than $25,000 in the past 12 months.
From the 'nearest the putting pin', to the beautiful Canberra sunshine, the day itself was great success with all players having a good hit and plenty of on course refreshment.
Several local businesses and sporting teams contributed prizes for the silent auction and this formed a key part of our fundraising strategy (along with some ambitious golfing targets on the course).
"Thank you to all that came and donated on the day and to all the staff that helped organise and supported on the holes during play," Jim said.
Donations for the auction came from far and wide and Hays are particularly grateful to the ACT Brumbies, Canberra Raiders and GWS Giants for their signed jerseys that sold for $2,000 between them.
"A big thank you also must go to Cam Sullings, at Federal Golf Club, who provided a great venue for this event for the past three years. Cam himself worked tirelessly on the day and really made sure that our event was a great success.
"At Hays, we are proud of the work we do in partnering such a worthy cause as Make-AWish Australia," Jim concluded.
Jim Roy, Regional Director of Hays in Canberra
A Level 11, 60 Marcus Clarke Street, Canberra
D 02 6112 7663 | E [email protected]