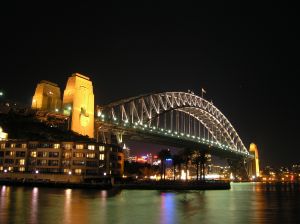 Global Millennial Summit heading to Sydney
Sydney has been chosen as the newest location for the global Millennial 20/20 Summit. Following successful events, each attracting close to 3,000 attendees, in London, New York and Singapore, the Sydney Millennial 20/20 Summit will be held at Carriageworks on 14-15 November 2017.
The Millennial 20/20 series is a unique and experiential gathering that celebrates the modern age of commerce and business powered by the millennials and future generations. The Summit's focus on the impact of technology, which is drastically altering how today's and tomorrow's consumer will interact with brands in sectors such as finance, retail, entertainment, tourism, FMCG and more.
UK based Simon Berger, Founding Partner of Millennial 20/20, explains the rationale behind the Summits.
"The Millennial generation have unprecedented access to technology that makes the way they deal with brands more complex than any preceding generation. The Millennial 20/20 Summits have been created to showcase how the leading global organisations and start-ups are interacting with this new breed of consumer," said Berger.
Rupa Ganatra, Co-founder of Millennial 20/20 continued with insights on how the conference will be tailored to the experience expectations of the Millennial generation.
Newsletter
We package up the most-read B2B Magazine stories and send direct to your inbox. Subscribing is the easiest way to keep up, in one hit.
"Each element of our event offers more of an experience than the traditional conference model, from the venue, to the program and exhibition format, even through to the food and beverage. I can assure delegates that they won't have experienced anything like it before!" shared Ganatra.
NSW Deputy Premier and Minister for Skills, John Barilaro, said the Millennial 20/20 Summit will prove to be an iconic event for New South Wales.
"This event will further strengthen our reputation as a world-leader in technology, innovation and finance.
"With its energy and entrepreneurial spirit, Sydney is the natural choice for an event that focuses on innovation, disruption and technology and only adds to New South Wales' standing as a global technology leader," said Barilaro.
Millennial 20/20 has partnered with the creative and experienced team at Hannover Fairs Australia, also based in Sydney, to stage the event. Lauren Greschner, Event Head – Millennial 20/20 explains further why Sydney was chosen alongside London, New York and Singapore to host a Millennial 20/20 Summit.
"Sydney is one of the top 20 start-up ecosystems and a bustling hub of disruption, featuring a mix of the world's leading finance and technology companies. Allied to the early adoption of technology by Australians, Sydney was an obvious choice for the Summit.
"We are also excited to be rethinking the traditional conference model to deliver a new experience for delegates, including working with the exciting spaces at Carriageworks,"concluded Greschner.