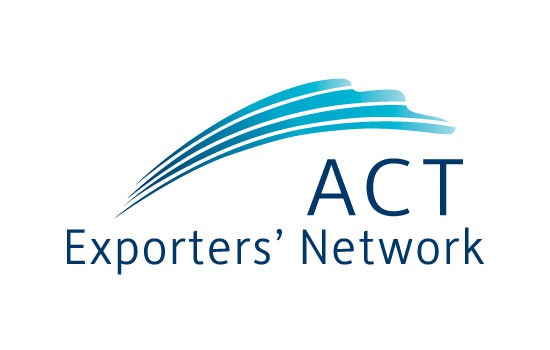 The title of this article is the reaction I often get, both from people living in Canberra, and those from other States. This perception is very wrong; in fact Canberra does have a dynamic and vibrant export community. The firms here are innovative, diverse and substantial firms building business overseas.
Much of the exports from this Greater Capital region are 'smart' exports, taking advantage of the knowledge intensive base that thrives in this city. In all, Canberra has around 500 active exporters, ranging in size from SME's, to large and growing companies.
A great thing about the Canberra exporting community is the mature attitude that exporters have towards sharing their knowledge. This is not the case in many other states and places Canberra in an enviable position.
Marita Corra, Director of Inland Trading Co, recently said "The ACT Exporters' Network and Canberra Business Council make an invaluable contribution to our business. Without the linkages, networking and knowledge base they provide, we would be operating in isolation. ACT Exporters' Network and Canberra Business Council provide a forum for like-minded businesses to get together and learn from each other. "
The Centenary year will be an exciting year for the business community and exporters in Canberra, with an array of networking events, workshops and trade missions to assist build capacity and grow exports.
UPCOMING EVENTS
Newsletter
We package up the most-read B2B Magazine stories and send direct to your inbox. Subscribing is the easiest way to keep up, in one hit.
VIP Round table with Kelly Ralston, Senior Trade and Investment Commissioner at Australian Trade Commission based in Washington DC
February 28 7.30- 9.00am
If you are currently in the USA market, or interested in further developing your market here, then this event is a must see.
'Demystifying Indonesia'
February 28 5.30- 7.00pm
In preparation for the upcoming ACT mission to Indonesia, the ACT Exporters' Network is organising a series of briefings to inform exporters about the intricacies of dealing with Indonesia. Hal Hill is the H.W. Arndt Professor of Southeast Asian Economies in the Arndt-Corden Department of Economics, Crawford School, College of Asia and the Pacific, The Australian National University.
Launch of the Centre for Exporting Government Solutions
March 7, 7.30am – 9.00am
The Centre for Exporting Government Solutions has been established to actively prepare and assist ACT companies to build markets for services and products aimed at governments in overseas markets. This is initially in the US Public Sector (USPS).
This virtual centre will be launched on Thursday the 7th March, by Deputy Chief Minister Andrew Barr. The launch will be followed by a forum discussion of companies that have successfully sold to foreign governments.
ACT Exporters' Network Breakfast on Opportunities in Hong Kong.
March 20 7.30am – 9.00am
The Hong Kong Economic & Trade Office, Government of the Hong Kong Special Administrative Region will speak about the current situation in Hong Kong and the opportunities in this market. We will also have some insights in the Hong Kong market from the ACT Exporting community including Marita Corra from Inland Trading, and Phillip Williamson from Intelledox.
To register for all these events go
to www.canberrabusinesscouncil.com.au/
ACT Chief Ministers Awards 2013 – 100 Years,
100 Countries, 100 Exporters
I welcome all exporters to look at entering the ACT Chief Minister's Awards in 2013. Entering the Awards will provide you an opportunity to network with other ACT companies, and to be seen as an outstanding performer amongst your peers. The ACT Government, through the Canberra Business Council, provides assistance to enter these awards.
Key dates for the ACT Chief Minister's Awards:
1 May 2013 Launch and Applications Open
15 August 2013 Applications Close
26th September ACT Chief Minister's Awards Gala Ceremony
If you are involved with exporting and international business, then please consider the advantages that being involved with the ACT Exporters' Network provides. To find out more information about membership of the ACT Exporters' Network and to take advantage of the benefits please contact ACT Exporters' Network Manager, Ellen Pope on 02 6247 4199, or Email: ellen.
[email protected]