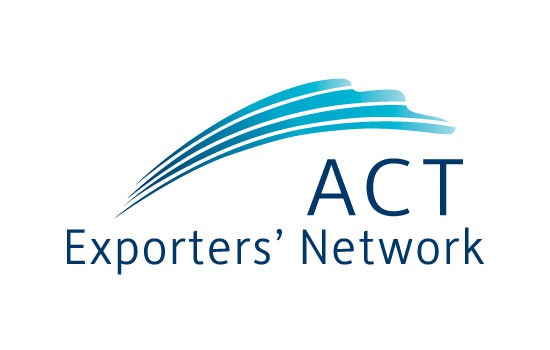 ACT companies that export are very important to our local economy. Dollars coming from overseas and invested back into our local economy will be increasingly important to balance the ACT's reliance on the public sector.
The ACT government has a program called Global Connect which has a number of international programs established to support the continuing diversification and internationalisation of the ACT economy through export development and foreign investment attraction.
The ACT Government is investing $750,000 per annum for the next 2 years into these Global
Connect programs.
* Trade Connect: a competitive grants program providing matched funding to emerging ACT exporters in support of trade development activities.
* ACT Exporters' Network: provides a unique forum for new and experienced exporting companies to network, share knowledge and to expand and develop export markets.
Newsletter
We package up the most-read B2B Magazine stories and send direct to your inbox. Subscribing is the easiest way to keep up, in one hit.
* Trade Mission Program: delivered in partnership with program partners like Austrade, and involves annual outbound ministerial trade missions supporting between 8-10 companies.
* Centre for Exporting Government Solutions: provides resources and expert mentoring to ACT SMEs with a demonstrated capability of delivering innovative solutions to the Australian
public sector to access international markets.
* ACT Chief Minister's Export Awards: recognises excellence in export performance across a number of categories. The ACT awards feed into the National Export Awards which is delivered by Austrade.
* International Student Ambassador Program: a niche initiative that aims to leverage the international student experience of Canberra as both an international education marketing tool and as a skills network that can link to the ACT economy.
A local exporting success story is Fyshwick based company eVALUA Pty Ltd. They provide online electronic tendering and evaluation software as a service (SaaS) hosted in the TransACT Data Centre, Dickson.
This month eVALUA signed a contract with the New Zealand Government for the Next Generation
Government Electronic Tendering Service (NG GETS) for the next 5-10 years. NG GETS is a major plank of the NZ Procurement Reform program and will enable New Zealand to meet emerging World Trade Organisation obligations into the future, whilst introducing new standards in government procurement.
Based on eVALUA's well-established eTenderBox™ service, NG GETS will enable around 80,000 companies to tender for work from 2,500 Government, Departments, Agencies and School Boards. The service will be hosted out of data centres in New Zealand to comply with NZ Government requirements.
eVALUA will sub-contract another Canberra company, EWA Associates to independently audit Internet security for NG GETS. Formed in 2001, to originally support the Department of Defence, eVALUA is now a leading provider of procurement and decision support solutions and services, with Australian and international clients in government, universities and utilities sectors.
Hugh Howell said "This is a major win for our Company and shows that with innovative and perseverance, ACT companies can provide world class solutions and compete in the international arena against 'Tier 1' competitors."
ACT CHIEF MINISTERS AWARDS 2013 – 100 YEARS, 100 COUNTRIES, 100 EXPORTERS
Reminder Entries are closing for the ACT Chief Ministers Export Awards. Key dates for the ACT Chief Minister's Awards
18 July 2013 Information evening to assist you with your application
15 August 2013 Applications Close
26th September ACT Chief Minister's Awards Gala Ceremony
If you are involved with exporting and international business, then please consider the advantages that being involved with the ACT Exporters' Network provides. To find out more information about membership of the ACT Exporters' Network and to take advantage of the benefits please contact ACT Exporters' Network Manager, Ellen Pope on 02 6247 4199, or Email: [email protected]
The ACT Exporter's Network works with exporters from the Canberra region, to build opportunities in overseas markets. If you require assistance, would like to be involved in our events, or find out more about the Network, please visit our website (www.actexportersnetwork.com.au) or contact Ellen Pope,
[email protected]
canberrabusinesscouncil.com.au or 02 6247 4199