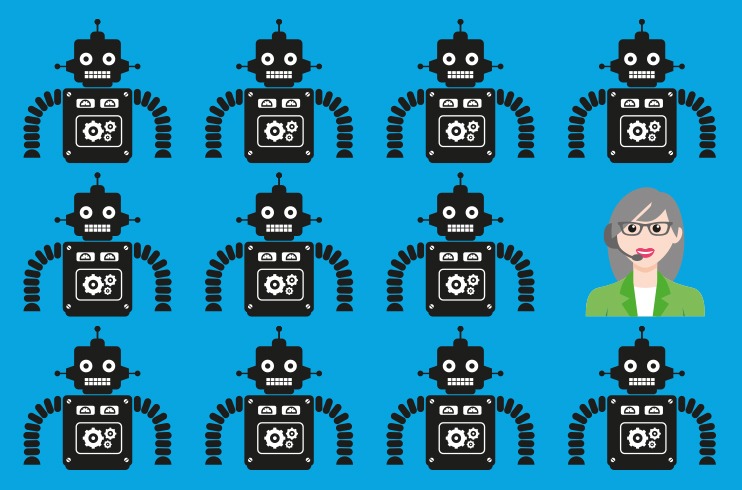 How to increase profits through better Customer Service
In recent years, we've seen huge growth in the use of live chat, messaging bots and online apps and software. As more and more organisations focus on customer self-help, it's all too easy for plain old-fashioned customer service to get pushed to the sidelines. In fact, many organisations are doing their best to eradicate the need for customer service staff entirely, in a bid to reduce labour costs and tighten up efficiencies.
While it certainly makes sense to equip customers with the tools they need to complete transactions at their own convenience, it's important this doesn't come at the cost of the personal touch. The reality is that the quality of your customer service has a bigger impact on your business bottom line than you probably think.
Why customer service is so important
Here are three ways the quality of your customer service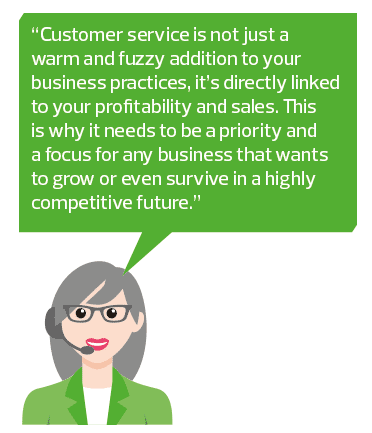 can directly impact your business profitability:
1. Differentiation: Great customer service differentiates you from the rest of the pack without cutting into your profit margins in the way that competing on price will. Customers these days enjoy a higher level of transparency than ever before, and they can compare and contrast products and services at the click of a button. Participating in a race to the bottom might lead to you getting a larger market share, but it will be at the expense of your profit margins, which could be damaging to your business over the long term.
Newsletter
We package up the most-read B2B Magazine stories and send direct to your inbox. Subscribing is the easiest way to keep up, in one hit.
2. Foster loyalty: If you offer good customer service you'll get far more in the way of repeat business and referrals than if your customer service is average. The cost of retaining existing customers is far lower than acquiring new ones, so you'll be able to increase your sales while keeping your marketing costs stable. Listening to your customers and building strong relationships with them will lead to greater loyalty and a dedicated base of repeat customers who will recommend you to others.
3. Increased sales: Your customer service team are there to help customers with any problems they have with using your self- help platform. Without the right customer support, your potential customer will probably just give up if and when they encounter a roadblock, resulting in the loss of a sale. If you have well trained customer service staff, they will be able to resolve any issues quickly and effectively, ensuring that the customer completes the sale and you don't lose out to your competitors. Customer service is not just a warm and fuzzy addition to your business practices, it's directly linked to your profitability and sales. This is why it needs to be a priority and a focus for any business that wants to grow or even survive in a highly competitive future. So just how can you go about creating a better customer experience? The good news is it's not difficult to improve your customer service and impress your customers.
Simple ways to improve your customer service
Here are five simple strategies that can help you do just that:
1. Train your employees
The simple things can make a big difference, so make sure your staff are aware of the need to smile and spend time getting to know your customers. An added personal touch can not only humanise your brand, it can lead to increased sales and boost your brand loyalty (leading to more sales and referrals in the future). Each and every organisation has its own take on customer service, so it's important that each and every employee is trained in your philosophy and approach. Educate them on your expectations, organisational standards, complaint resolution procedures and how to answer the phone or greet customers so you can ensure a consistent experience for your customers throughout.
2. Review each customer touchpoint
Consistency is the key to building a strong brand identity and a loyal base of customers.
This means offering a consistently good experience to your customers at each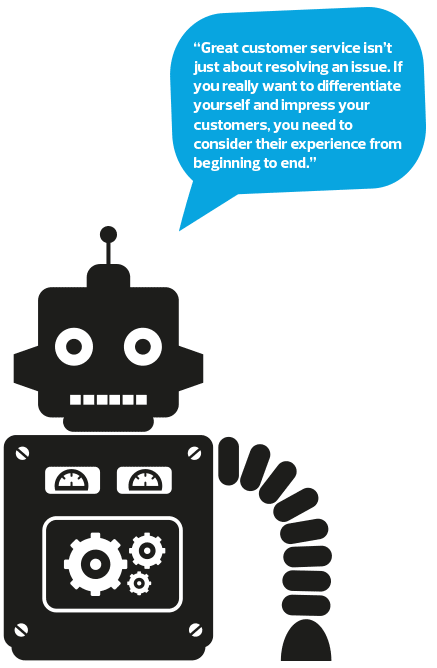 touchpoint. Think about all the ways your customers interact with you, from face to face, over the phone and via your website or app. Look at any areas that could benefit from improvement. In many cases, it's possible to remove the need for a user to contact customer service by improving the quality of the information available via other means, mostly your website or app. For many organisations, a significant number of calls to customer service are down to the inability to find information, vague or unclear instructions, or difficulties completing a transaction online. If you can streamline as much as possible at your customer touchpoints, you can free up your customer service team to focus on relationship building, cut staffing costs and reduce call wait times. All this will in turn build a positive customer experience.
3. Create a documented customer service strategy
This is essential if you want to provide a consistent experience to your customers and ensure your employees are all acting in accordance with your brand's values. Your strategy should cover every single customer touchpoint, and it should be communicated to your staff across the board. A great customer service strategy incorporates the following elements:
Customer service vision tells your employees what your overarching goals are and how they can help you achieve that vision.
A hiring policy that focuses on hiring employees with the right skill set to provide quality customer service in line with your vision.
Identification of customer needs and expectations.
Clear goals for customer service staff.
Recognition of good service and high performance. Just like your customers need to feel appreciated, your employees should also feel valued and rewarded when they do a good job.
4. Improve customer interactions
As well as looking at your overall customer interactions, if you're serious about providing great customer service, you'll want to look at the quality of your customer interactions. Do all your customers feel appreciated and valued? If they don't leave every interaction feeling positive towards your business, they're not likely to come back. Getting this right is a big step towards building customer loyalty and bringing in repeat business. It's well worth evaluating the outcome of your customer interactions and even seeking out feedback from customers after they have been in contact with a member of your customer service team.
5. Seek out feedback
Listening to your customers is one of the most valuable things you can do, both from the point of view of making them feel valued and also so you can be aware of any issues that you need to improve on. A negative customer experience can be turned into a positive one depending on how you deal with it. Take a proactive approach to seeking out feedback – many businesses avoid doing this for fear of what they might hear. But there's nothing to be afraid of! Feedback can and should be sought regularly as part of the post sales process and it can give you valuable insight into your organisation's strengths and weaknesses. It also gives you the opportunity to fix problems before they lose you sales or cost you your reputation.
Stand out by offering a quality user experience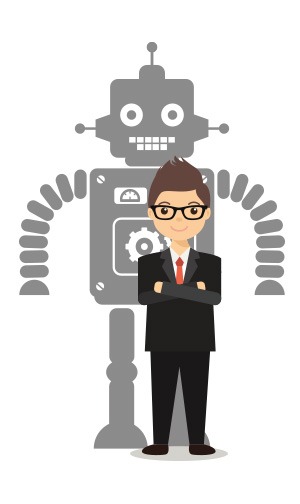 Great customer service isn't just about resolving an issue. If you really want to differentiate yourself and impress your customers, you need to consider their experience from beginning to end. This is where user experience comes in.
User experience is becoming a strong focus for more and more organisations as competition increases and expectations among customers change. If you've got it right, your customers will have a consistent, positive experience every time they come into contact with your brand. This means from the first time they land on your website, through to their online transactions, apps or tools that are linked with your brand, through to post-sales follow ups and more.
Once you've gone through the process of improving your customer service, the logical next step is to think about the whole customer or user experience. User experience looks at the whole journey, not just direct interactions between customers and your employees.
To fully understand the quality of customer experience, you will need to map out the entire customer journey, from the first time they land on your website all the way to when they make a repeat purchase. User experience means removing any roadblocks on this journey that could be preventing a customer completing a transaction.
As well as troubleshooting potential issues, creating a great user experience means ensuring a consistent message is communicated across every touchpoint, from your website and app to your customer service team. Your brand values should be clear and communicated across all platforms.
If you feel like you can't afford to spend the time on your customer service staff or training, it's well worth thinking about whether you can actually afford not to. With customer service having such a direct impact on profitability, overlooking its importance is not an option if you want to be successful.
At RSM we can help you ensure you provide exceptional customer service by offering our support and expertise in business. If you would like to speak to RSM about how we can help, please contact Andrew Sykes on 02 6217 0333 or [email protected].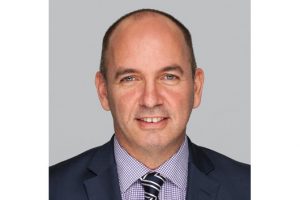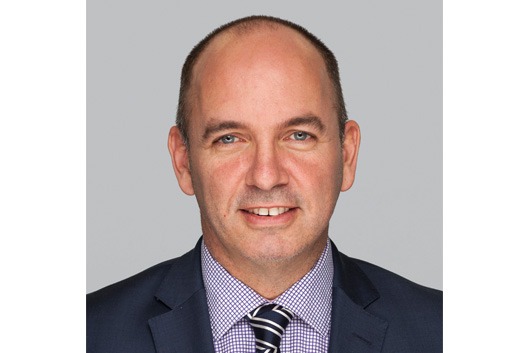 Experience the power of being understood. Experience RSM.
rsm.com.au