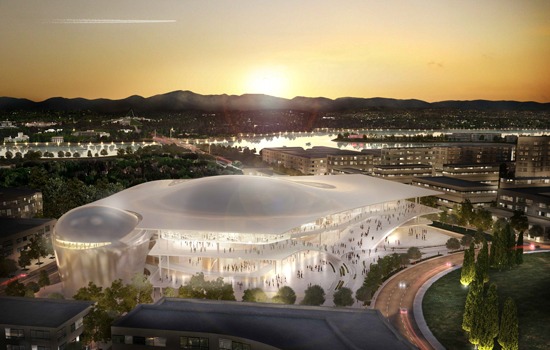 The Canberra Business Chamber believes the Australia Forum could become the capital's next iconic landmark following an inspired design unveiling.
Unveiled by internationally renowned architects, Fuksas and Guida Moseley Brown, the striking design merges futuristic and classic features in what Canberra Business Chamber CEO, Robyn Hendry said will be a structure 'to be admired for generations to come'.
The new convention centre (Australia Forum) is estimated to bring $1.6 billion into the ACT economy.
The proposed site for the project is on the city edge of the Parliamentary Triangle. Ms Hendry addressed the importance of having buildings with national significance placed within the heart of Australian democracy.
"As the capital of Australia, Canberra needs a venue that can attract and host major national and international meetings and is architecturally recognised like our other great institutions such as Parliament House, Australian War Memorial, the National Museum and Australian National Gallery. We believe this design will be a catalyst to complete development of the Parliamentary Triangle and implement the City to the Lake plan."
Although having the financial support of the ACT Government, the construction of the Australia Forum is still in the planning phase and will require further funding from both private and public sectors. Ms. Hendry commended the ACT Government on the process they undertook to develop the design.
Newsletter
We package up the most-read B2B Magazine stories and send direct to your inbox. Subscribing is the easiest way to keep up, in one hit.
"The reference design is an important step forward. We are pleased the ACT Government has supported this project to date and committed funds in the Budget to get the Australia Forum to investment ready stage."
The project is predicted to bring $3 billion into the ACT economy over the first 20 years through delegate expenditure, as well as boosting employment opportunities to the region. Research conducted by Ernst & Young found the estimated revenue made by the new convention centre would more than double that of the current facility.
"The ACT's economy and identity as the national capital will be bolstered by the city having a premier convention centre. We look forward to continuing to work with the Government, business community and industry to make the Australia Forum a reality." Ms Hendry concluded.