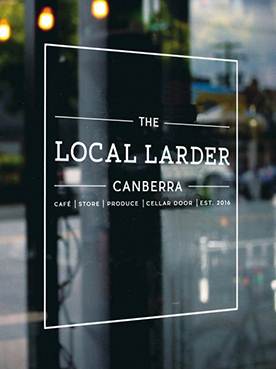 Canberrans, sear the name 'The Local Larder' into your brain. It is the creation of Julie Nichols and Rachel Evagelou, founders of Shop Handmade and the Handmade Market.
After closing their Shop Handmade doors in late May they have been planning the opening of 'The Local Larder'.
The Local Larder will open in coming months, in the space opposite Glebe Park, previously occupied by Rivers.
The Local Larder will be a caf , cellar door, retail space and tourism hub in the heart of Canberra.
"We are creating a beautiful dining and retail space to showcase the best of the Canberra region's wines, food, produce and designers," Julie explained.
The Local Larder aims to be one of Canberra's leading advocates for all that is great about the region.
"By providing a beautiful and central location to showcase and sell local & regional produce, design, wine & services we seek to establish the most creative and innovative tourism experience in Canberra," Rachel said.
But you can get a Shop Handmade fix, and a taste of what is to come at The Local Larder, by ordering your local produce Christmas hampers online from The Local Larder's new website.
"Over the last few years with Shop Handmade we identified that there was a gap in the market for Christmas and all-occasion hampers that focused on Canberra, local produce, Australian or handmade items," Julie said.
Rachel and Julie found themselves producing hundreds of such hampers for all sorts of customers, parents, schools, Government, private business and conferences.
"Since we haven't yet opened the doors to The Local Larder, we still want to have this service available, so we are releasing a selection of hampers, ranging in price from $30 to $200, where you can choose from selected themes or design your own," Rachel outlined.
All you need to do is view the hampers online, decide what you want, get in touch with Rachel and she will look after the rest.
Hamper orders will close mid-November so please head over to the website www.thelocallarder.com.au to see what is on offer. Or you can email Rachel directly at [email protected].