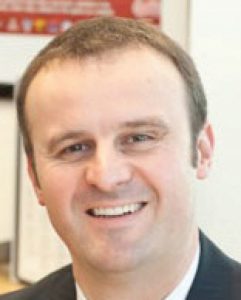 If you were offered a chance to tap into a market worth a trillion dollars, or gain a foothold in a country of 240 million growing by 6 per cent a year and spending billions on infrastructure and technology, you may think it's a dodgy get rich quick scheme.
But it's not. The public sector market in the USA is worth about a trillion dollars – gaining only a 0.001 per cent share of this would be worth $10m!
And, just to Australia's north lies Indonesia – a rapidly growing country whose government is spending more than $20 billion on infrastructure next year.
Exporting to these markets – or indeed any market – isn't easy, with all manner of logistical, cultural and financial barriers to overcome.
This is where the ACT Government's Global Connect initiative comes in – and in particular our new Centre for Exporting Government Solutions (CEGS).
Newsletter
We package up the most-read B2B Magazine stories and send direct to your inbox. Subscribing is the easiest way to keep up, in one hit.
The ACT Government is committed to helping local firms do business overseas. Exporting not only helps individual businesses, it will keep our economy and employment base strong.
As I have said on these pages before, it's important that we focus on our strengths. Given Canberra's role as the national capital it's no surprise that our natural advantage – from an economic and business point of view – is in products and services for the public sector.
The ACT has developed world-class capability in numerous fields, such as cyber security, defence technology, information and project management, and policy consulting, among many others.
What's particularly heartening is that more and more local firms are taking their skills and knowledge to the world.
The Chief Minister's Export Awards are a shining example of the success that our firms are enjoying on the world stage – but these are only the tip of the iceberg.
One of the most satisfying parts of my job is meeting local business men and women who are developing innovative products and services for the public sector. I'm constantly impressed, and still a touch surprised at times, at the ingenuity and dedication here in Canberra.
The Centre will not only help local firms to begin the process of exporting, it will assist current exporters to develop new markets.
It will provide training, resources, networking and mentoring to small and medium enterprises to access international markets.
There will also be breakfast talks and webinars. Other resources being developed include market intelligence on overseas opportunities, a database of partner organisations in Australia and abroad, and information on obtaining funding for export development.
Global Connect was established as part of the Business Development Strategy to bring together the various trade initiatives supported by the ACT Government. The Centre will be a part of Global Connect, and was built on the success of the Exporting Government Solutions Pilot Program, which was run in partnership with Austrade.
In addition, in the second quarter of this year I will be leading a trade mission to Indonesia to look at further strengthening the ties between Indonesia and the ACT.
The visit to Indonesia will be aligned to the ACT Government's response to the Commonwealth Government's Asian Century White Paper, and our aspirations around developing Canberra as an international education hub.
I encourage all local firms who are thinking of exporting, or would like further assistance with their exporting strategy, to get in touch with the Economic DevelopmentDirectorate: www.business. act.gov.au