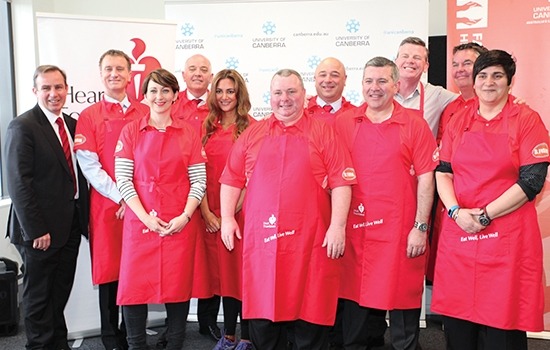 Who will be Canberra's biggest heart?
Eleven Canberra personalities drawn from business, government and university have accepted the Heart Foundation ACT's twelve-week challenge to become Canberra's biggest
heart and reduce their risk of heart disease.
We're proud that B2B's publisher and owner of Capital Magazine, Tim Benson is one of these challengers. The celebrity challengers will have access to nutrition advice from the University of Canberra Nutrition and Dietetics Clinic with personal training sessions being provided by Lee Campbell from B.Firm. At the end of challenge, the person who raises the most will be crowned
Canberra's Biggest Heart.
At the launch, Tim congratulated all his fellow challengers for taking part in such a good cause to raise funds for the Heart Foundation. He encouraged as many people as possible to get on board and make an online donation at www.canberrahearts.org.au.
Newsletter
We package up the most-read B2B Magazine stories and send direct to your inbox. Subscribing is the easiest way to keep up, in one hit.
The celebrity challengers include Deputy Chief Minister and Treasurer, Andrew Barr MLA; Theo Dimarhos, Savills Australia; Maria Efkarpidis, Rock Development Group; Melissa Gelonese, Entourage Productions; Professor Nicholas Klomp, Deputy Vice Chancellor (Education), University of Canberra; Eoghan O'Byrne, Canberra FM; David Pembroke, Content Group; Kevin Phelan, The Good Guys (Fyshwick); Dan Stewart, Land Development Agency and Amanda Whiteley from HerCanberra.
Canberra's heart statistics are worrying
* Heart disease accounts for four deaths a week in the ACT.
* More than one in three people in the ACT are overweight.
* Close to a quarter of the ACT population aged 15 and over do very little or no exercise at all. This is well below the national average of 36%.
Tony Stubbs, CEO Heart Foundation ACT, said that with 62% of locals being overweight or obese and 50% being insufficiently active for health, the Challenge provided participants with the right building blocks to turn their heart health around.
To support these celebrities fundraising efforts for the Heart Foundation ACT, visit www.canberrahearts.org.au Celebrity heart challenge