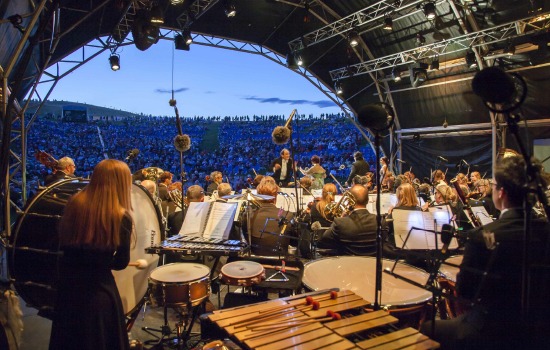 This year will see Voices in the Forest celebrate its 5th anniversary as Canberra's leading international music concert. Since 2011, the outdoor gala spectacular has brought many world-renowned opera singers to the amphitheatre of the National Arboretum such as Sumi Jo, Anne Sofie von Otter, Emma Matthews and Inessa Galante.
This year's concert promises another magnificent showcase of talent starring Cheryl Barker AO, Diego Torre, and Jos Carb . Cheryl Barker is one of the finest sopranos to emerge from Australia in recent years and has performed throughout Europe including Hamburg, The Netherlands, Paris, The English National Opera, Covent Garden as well as Beijing and Houston USA.
Diego Torre, foremost Mexican tenor is known throughout Europe, USA and Australia; Argentinean born Australian baritone Jos Carb who has recently joined the roster of principal artists at the Metropolitan Opera in New York.
The event has grown significantly in its 5-year journey to secure itself a place on the Canberra social calendar as a key cultural event.
Newsletter
We package up the most-read B2B Magazine stories and send direct to your inbox. Subscribing is the easiest way to keep up, in one hit.
Event organiser, The Village Building Company, can fondly remember some of the challenges it has faced in organising the early years.
"2011 was quite interesting to execute. The National Arboretum was still a construction site, only the footings of the Village Centre were down" said Bob Winnel Managing Direct of the Village Building Company.
"The 2012 launch was in the 'nearly complete Village Centre' and guests and performers endured the Arctic June winds blowing through the windowless structure".
"As areas of the National Arboretum have been completed, we have been able to offer patrons a higher level of experience, including VIP cocktail events and dinners, providing patrons with an opportunity to meet the performers. We have also introduced the children's program so that parents could relax and take in the show.
"Last year we introduced a feature opera segment and for the 5th anniversary we are thrilled to feature La Boh me – an opera each of the three performers have made their own on various world stages.
"It's been a truly rewarding experience creating Voices in the Forest. We are proud to have developed this event into an occasion that the music lovers of Canberra can look forward to."
Free and continuous buses will be leaving from the bus stop at Edinburgh Avenue,Acton (opposite the QT Canberra Hotel) or from Platform 10 at the City Bus station (Northbourne Avenue) from 2.30pm. After the concert buses will leave the Arboretum from 9.30pm. For more information visit www.voicesintheforest.com.au or book through www.canberraticketing.com.au or phone 62752700
Voices in the Forest 2015 will be held:
Date: Saturday 21 November 2015
Where: National Arboretum Canberra
Time: Gates open at 2.30pm, Concert
starts at 5.30pm, finishes at 9.30pm