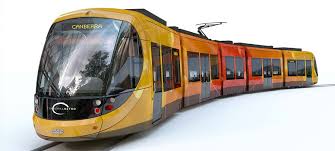 Stage 1 of Canberra's light rail network has been awarded the Asia-Pacific Transport Deal of the Year 2016 by Project Finance International.
The award recognises the light rail project as a clear example of how public-private partnerships can deliver transportation infrastructure to local communities. The award also highlights the world-class partnership between the ACT Government and the Canberra Metro consortium.
"It is exciting to see Canberra's light rail project already receiving international attention through this prestigious award. It is recognition that the project is providing a premier public transportation system for Canberra," Minister for Transport and City Services Meegan Fitzharris said.
In 2016 Canberra Metro was appointed as the ACT Government's partner to finance, design, construct and operate Stage 1 of the light rail project from Gungahlin to City. The Canberra Metro consortium and its advisors comprise national and international companies, including Mitsubishi Corporation, Aberdeen Investments, Pacific Partnerships, John Holland, CPB Contractors, Deutsche Bahn International, CAF and the Bank of Tokyo Mitsubishi.
"This first stage of Canberra's light rail network will transform the way Canberrans move around this city, creating an integrated transport system that is more convenient, efficient, affordable and reliable for our community.
"Work is also now underway on light rail stage 2 from the City to Woden, with $7 million to be invested in the technical and design work, including determining the best route and alignment, cost estimations and procurement strategy. We will continue to consult with the community about stage 2 as it progresses," Minister Fitzharris concluded.
Newsletter
We package up the most-read B2B Magazine stories and send direct to your inbox. Subscribing is the easiest way to keep up, in one hit.
Project Finance International (PFI), a Thomson Reuters publication, is a leading source for global project finance intelligence. The PFI Awards are considered one of the most prestigious events in the global project finance calendar, which see hundreds of the world's most successful market professionals gather to celebrate industry excellence. The PFI Awards were presented on Wednesday 1 February in London, with Mitsubishi representatives in attendance.
For more information on the Canberra light rail project visit www.transport.act.gov.au.