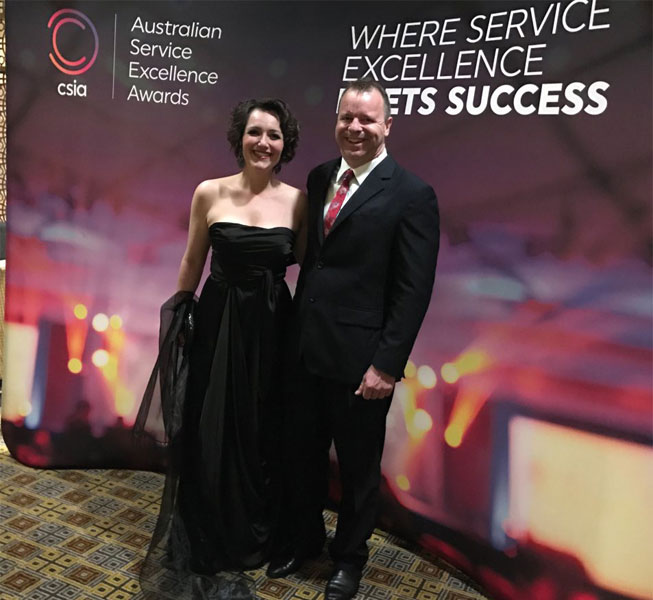 Wisdom Learning, a Canberra-based Registered Training Organisation was recently recognised as the '2016 Service Champion – Small Business' at the, Customer Service Institute of Australia's, Service Excellence Awards held in Melbourne.
Wisdom's CEO Rod Hattch and Director Jana Clyde were honoured to accept the award.
Since commencing operation in 2002, Wisdom has been widely recognised in education and business however this award has significant meaning for the organisation.
"Excellence and service has underpinned Wisdom's success and it is great to have this external recognition validating our standards of service against an international benchmark," Rod said.
"Other important elements to our success are client satisfaction and repeat business. This external recognition is icing on the cake."
The reward criteria is the International Customer Service Standard (ICSS:2015-2020). This is the benchmark for service excellence for Australia and around the world.
Newsletter
We package up the most-read B2B Magazine stories and send direct to your inbox. Subscribing is the easiest way to keep up, in one hit.
Rod says that he is also very proud that the development of the ICSS was an initiative of the International Council of Customer Service Organisations led by the Customer Service Institute of Australia.
This award reflects the quality of businesses in the ACT and that many of them compete and win, against other companies throughout Australia and internationally.
"We want to thank our clients, customers and suppliers that partner with us to enable us to deliver this great service. Of course, the achievement of this award is also down to our great team of people who consistently aim to deliver Wisdom WOW! Moments for our customers," Rod said proudly.
"It really reflects our team's passion and continued commitment to creating exceptional customer experiences," Jana said.
The Customer Service Institute of Australia received a record number of nominations this year including organisations such as American Express Australia Limited, Boost Juice, Virgin Mobile, Defence Housing Australia and SunSuper.
"We are truly honoured and very excited to be acknowledged nationally for this award. It will set a new benchmark for us to try and achieve next year for the benefit of our customers," Jana concluded.
Background
Wisdom Learning is an award winning Registered Training Organisation known and respected for its high standard, high quality learning, facilitation and consulting services. Providing innovative and effective learning and development solutions since 2002, Wisdom offers over thirty nationally recognised qualifications to professionals, apprentices and learners alike across a range of functions: business services, leadership and management, innovation and change, training and education, property services and real estate.

+61 2 62578588
[email protected]
www.wisdomlearning.com.au/