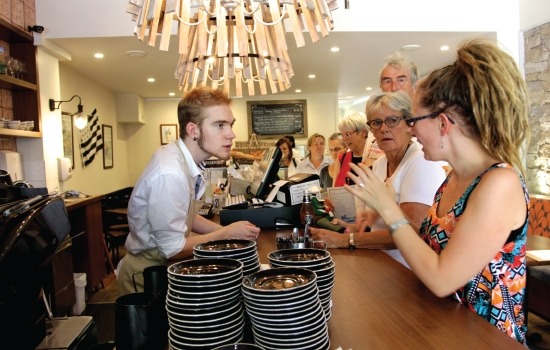 Crafting beautiful specialty Cr pes and Patisserie from Brittany and France
Breizh Caf is celebrating its exciting first birthday this month, having opened officially for the first time on December 15th last year, so is just a "new kid on the block" within the interesting mix of traders at Ainslie Shops, with its unique village feel, and as part of the wonderful larger
Ainslie community.
The food industry is nothing new to Bruno and Bronwyn, the owners. Bruno was born in Brittany (France) from a long line of Bretons on both sides of his family. Arriving in Australia in 1988, and after a humble beginning (ironically working in a restaurant serving crepes in Canberra) he was able to showcase his savoir faire at many prestigious establishments in Canberra. Needing a sea-change, Bruno, Bronwyn and their two sons (who also work regularly at Breizh Caf ) spent a year and a half living in the quaint coastal town of Vannes in Brittany around 5 years ago. Upon their return, the idea of creating a typical Brittanic creperie here in Canberra started to develop in Bronwyn and Bruno's imagination.
"We wanted a casual, unpretentious yet stylish place, with a "feel good" atmosphere for people to relax & enjoy some of the charming Brittanic culture and food," Bruno said.
Breizh simply means "Bretagne" (or Brittany) in the Brittanic language. Galettes, or savoury crepes, originate from Brittany and are made from Buckwheat Flour. Buckwheat (or Sarrasin, Bl Noir) is a grain from a plant related to the sorrel and rhubarb family, is gluten free and high in soluble fibre which makes it a highly digestible and healthy ingredient. Traditionally, the savoury buckwheat Galettes are served with cider, and Breizh Caf has a large list of ciders to enjoy by the bottle or glass to experience that winning flavour combination.
"There is no better feeling than seeing empty plates and contented smiles on so many regular faces. So come and enjoy a galette or a cr pe and a bol e of cider with us," says Bruno invitingly.
Ainslie Shopping Centre
Edgar St Ainslie, Canberra 2602 Phone: 6156 0346
Mobile: 0403 190 551 (Bruno)
email:[email protected]