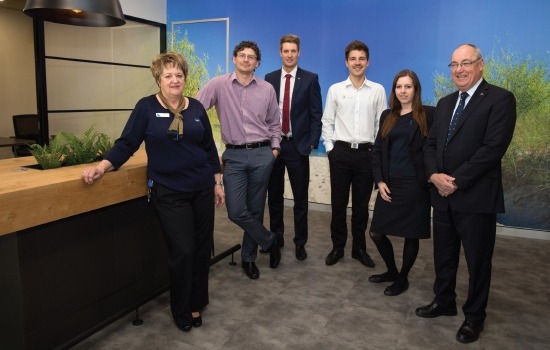 BOQ Canberra City sets the pace in service and style
" BECAUSE WE RUN OUR OWN BUSINESS WE CAN SOMETIMES UNDERSTAND WHERE OTHERS MIGHT NOT IF YOU DON'T TICK ALL THEIR BOXES "
BOQ Canberra City recently moved into a modern new fit-out, located on the corner of Bunda and Akuna streets, having outgrown their previous office.
"We didn't want to move th e bank too far from where we were – so just around the corner near Glebe Park is perfect," Owner Manager John Smeeth said.
Their previous fit out was 10 years old and ready for a revamp.
Nationally there are only two corporate branches with the new fit-out. BOQ Canberra City is the first owner-managed branch to have the new fit out.
Newsletter
We package up the most-read B2B Magazine stories and send direct to your inbox. Subscribing is the easiest way to keep up, in one hit.
"The new fit-out is aesthetically pleasing and inviting. Clients can sit at the central bench and fill in documents or organise themselves," Manager Tim Smeeth said.
"The new location gives us a fresh image and a nicer working environment," John said.
Because of the owner manager model at BOQ the current owners will be there for a long time.
"We really get to know or customers," Owner John Smeeth said.
"As small business owners ourselves, we really understand the concerns of small business, such as cash flow, tax, BAS etc," Tim said.
"It is like having your own private banker without dealing with a big bank," Tim said.
The BOQ Canberra City is a locally owned and run business so they are aware of local issues.
BOQ Canberra City provides all your banking needs, including personal and business banking.
"We hope to bring understanding and security to small businesses that want to bank with us. Because we run our own business we can sometimes understand where others might not if you don't tick all their boxes," John said.
The plan going forward is to grow the team so they are not so reliant on John.
This is well on the way with the BOQ Canberra City currently employing eight staff with plans to grow to 10 in 2015.
One of the great things about BOQ Canberra City is that they have better opening hours than most banks. They are open from 9.30am – 5.00pm five days a week.
"We have a reliable small team who care about the customer," Tim said.
BOQ Canberra City are ready to welcome you at their new branch on the corner of Bunda and Akuna streets Canberra City.
BOQ Canberra City.
Unit 331, 240 Bunda Street Canberra ACT 2601
PO Box 431, Civic Square, ACT 2608
t: 02 6209 1840 f: 02 6209 1850
www.boq.com.au