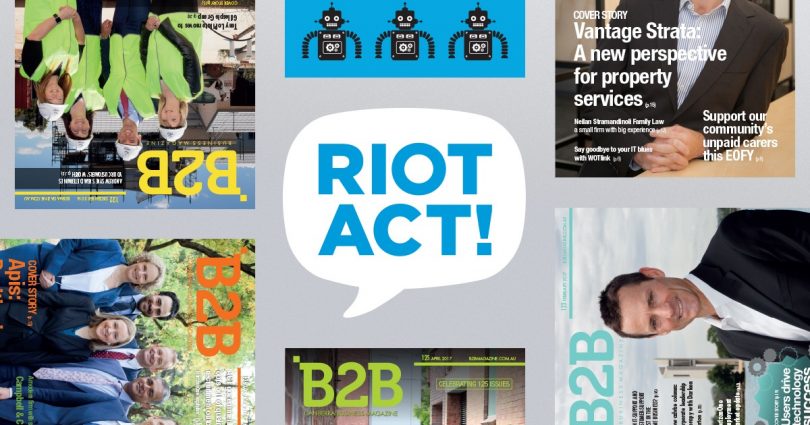 I have been pondering the future of B2B Magazine and my next major step for the past year and I am proud to announce that we have decided to join forces with the new RiotACT to bring the next big thing to the Canberra region – Digital Regional News.
While there are loads of exciting announcements yet to come, B2B Magazine will be incorporated in the combined platform within the business category.
I would like to thank all of the people I have worked closely with over the last 10 years building the quality publication with a great reputation that B2B Magazine is known as today. Not the least of which, thank you to our valued readers, team members, suppliers, fabulous clients and of course my wife and daughter. Together I believe we have served the Canberra business community well.
I am really looking forward to joining the RiotACT team as a Business Development Manager and continuing to provide the same level of service to the Canberra business community from this exciting combined digital platform.
RiotACT owners, Michael McGoogan and Tim White, are well known to the Canberra business community. Their reputation and success with companies, such as Allhomes and Uber Global, speak for themselves. Their vision to revolutionise digital regional news is intoxicating and I am very passionate about this next stage of B2B Magazine. In business, you need to continue to make decisions and move forward. This is without doubt the best decision I could make for the magazine and my family.
I invite all of my current, and past clients, to get on board and take this journey with me. I also encourage the 26,000 Canberra business owners, no matter how large or small, to continue to support B2B Magazine as we transition to RiotACT. This is the beginning of something new and exciting. Hold on tight. It's going to be one hell of a ride.
Newsletter
We package up the most-read B2B Magazine stories and send direct to your inbox. Subscribing is the easiest way to keep up, in one hit.
I will be in contact personally with all of our existing clients over the coming weeks. Thank you for your support.
Watch this space…
Tim Benson