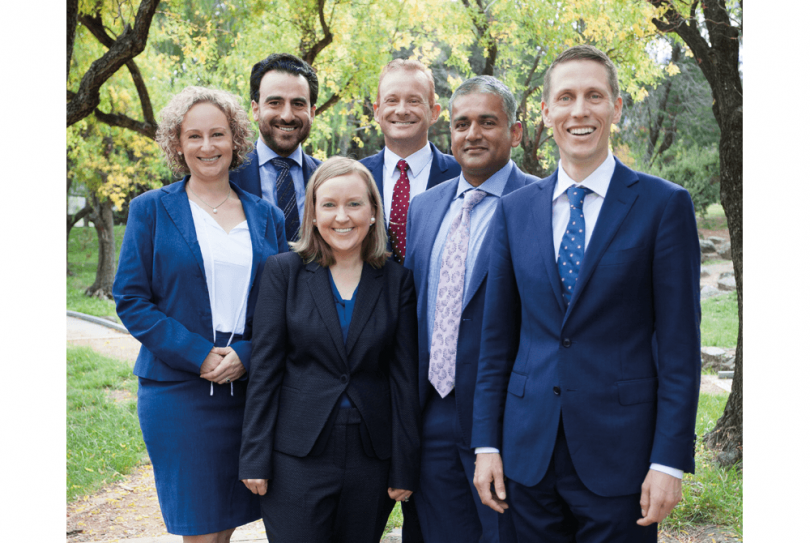 It is with great pleasure that Apis announces a number of recent staff promotions to support the growth of its Canberra based professional services team. Apis has operated in the Nation's capital for over fifteen years, offering specialist services across strategic planning, programme and project management, business and systems analysis, user research, product delivery, change management and complex procurement.
"We are a firm of about 100 professional consultants known for shaping, solving and delivering major transformation initiatives. We take a hands-on approach and together with our government clients, we deliver," says current Partner Anthony Honeyman.
"We have intentionally invested in a series of professional development programs over the last few years, targeting leadership, consulting skills and personal growth for our team, from junior to senior," explains, current Partner, Nigel Nutt.
"Our clients and we are well and truly seeing the benefits of this investment!" One such initiative has been Apis' highly successful Leadership Program designed in partnership with YellowEdge to focus on our delivery leads and the critical role this group fulfils in providing leadership to the teams on site and to the company in general. "We are a 'people business'," Nigel goes on to say, "and are always looking for ways to develop our skills and stay current with our government market."
Newsletter
We package up the most-read B2B Magazine stories and send direct to your inbox. Subscribing is the easiest way to keep up, in one hit.
As a result of this ongoing investment in people, Apis is very pleased to announce the promotion of Annya Newman and Melissa Robbins to Principal Consultant and Lakshman Gunaratnam and Brendan Roche to Executive Principal Consultant. "All four team members have definitely earned their promotion" says Anthony Honeyman.
"Each has displayed the attributes and behaviours we desire as a company – adaptive, resilient, self-reflective and collegiate. Each has demonstrated over extended periods, the ability to deliver high quality outcomes, together with their clients."
Annya has been with Apis for six years. In that time she has seen the company more than double in size and expand its services across government.
"The company has provided me the opportunity to work in many different environments. I have thoroughly enjoyed the challenges," Annya notes.
Melissa came to Apis in 2012. She comments, "I like the fact that we are a hands-on delivery team. We work on site with clients to help shape practical and sustainable solutions."
Lakshman and Brendan share similar sentiments. "I came to Apis from one of the 'Big Four'," notes Lakshman. "Despite its size difference, Apis offers me similar opportunities to get involved in complex initiatives for large government departments. It has also provided me with a level of autonomy and flexibility which I've not experienced in the past."
Apis is also thrilled to announce the introduction of three new Partners from within the company – David Trabinger, Hassan Adhami and Michael Brennan – to join Nigel, Anthony and Tim in the Canberra Office. "
The introduction of Mike, David and Hassan is a great addition to our leadership team, " says current Partner Tim Ryan. "They share our values and our passion for delivering quality services."
Each of the new Partners brings significant depth of experience in government business, particularly public sector reform in a digital age.
Tim explains, "The extension of the partner ranks for Apis is a reflection of the new and innovative work being undertaken across our Company, particularly in respect of our digital services. The new Apis partners have played a central role in positioning our design centre of excellence and our approach to true user research driven design."
David Trabinger joined the firm in 2013 after a successful 23 year career in the public service. Much of his time was spent in the senior executive service, leading reforms across a number of social policy areas including health and welfare.
David explains, 'I had the opportunity to work across some challenging policy and delivery issues and equally I had the chance to work with some fantastic people. However over time I found myself looking for ways where I could apply the experience and knowledge I had gained, both the successes and scars, onto a broader playing field. I was looking for how I could combine measured practical advice with hands-on delivery of outcomes – Apis was the obvious place for me. On joining Apis, I found a group of people motivated to work in true partnership with clients to deliver tangible outcomes. What that means for me is the opportunity to work with some incredibly talented consultants, supporting them with genuine insight about the machinery of government."
Over the past three years David has led a number of major engagements for Apis, including support to the strategic design elements of business transformation within the Welfare Payments Infrastructure Transformation programme for the Department of Human Services and support to the Department of Education and Training through strategic advice and direction on the future ICT strategy.
Nigel says "David brings a complete package of skills, experience and cultural fit to the Apis partnership. His ability to interpret and translate complex policy and delivery issues into well considered and measured advice for clients is a highly sought after quality. David also brings a real passion for mentoring and coaching. His talent for guiding and developing our people is a real asset to the company."
David tells us "I am really excited by the move into the Partner ranks of Apis, particularly at a time of major change and transformation across the public sector. I am especially motivated by the opportunities emerging from the digital disruption agenda and the new approach to design and delivery of government policy and services."
Mike Brennan joined Apis in 2012 after 10 years in the UK developing his business design, project / programme management and consulting skills. Mike explains "My whole career has been involved with improving the way organisations operate and perform so when I returned to Australia, it was serendipitous that I came across Apis. It is an agile and progressive management consulting firm focussed on providing independent advice and delivering tangible outcomes for clients. Overwhelmingly however, it is the integrity of the partners, the ethos of the organisation and calibre of the staff that have led me to make Apis my long term home."
Since joining Apis, Mike has played a central role working with the Departments of Health and Social Services to deliver a number of major reforms in aged care. Mike reflects "What attracts me to the public sector is the importance of the work – being involved in making positive change for large segments of the population is highly motivating and satisfying." In his time at the Department of Health, Mike has worked seamlessly alongside his APS colleagues to build truly integrated teams and develop the capability of departmental staff along the way. When asked what has contributed to Apis' productive relationship with the Department, Mike responds, "When Apis accepts a piece of work, we make a commitment to the client to work with them to achieve an outcome – no matter how hard it gets. In the case of aged care, maintaining team motivation and cohesion has been critical during this complex, multi- year reform, and has been a key ingredient for progressive achievement of successful outcomes."
Mike has been involved in a number of initiatives with the Digital Transformation Office and Digital Transformation Agency and is a great advocate of the digital revolution, "The DTO disruption in 2015/16 was an essential reminder for all Government Departments about the importance of listening to and understanding the needs of end users when reforming Government services. In aged care, we adapted an agile design process involving hundreds of users to develop critical system improvements. However, for complex reforms, there is no substitute for detailed planning and an integrated approach to design, change, delivery and benefits management."
On the prospect of becoming a Partner of Apis, Mike enthusiastically responds, "It is a huge honour to be associated with this firm. I am looking forward to continuing to serve our clients across the public sector for many years to come."
Hassan Adhami joined Apis in 2009 having spent the earlier part of his career providing project management and business design services to Government, predominantly in Canberra but also a short 18-month stint in the Middle East. In reflecting on why he has stayed with Apis for as long as he has, Hassan puts it down to the culture of the company and its people, the importance and national significance of the work they do, and the genuine desire to deliver in a collaborative, outcomes focussed way. "It's a culture that is driven from the top and one that aligns closely with my views on always acting with integrity and working with people to achieve outcomes."
Hassan has more than 15 years of experience delivering a range of online services, complex reform and transformation projects for Government. His experience spans the portfolios of Environment, Health, Agriculture, Human Services, Indigenous Affairs, Education and Veterans Affairs. His education in information technology and strong delivery background on a range of digital transformation, online services and ICT initiatives means he can work with and effectively manage multi-disciplinary teams in Agile and traditional delivery environments.
Hassan prefers the use of Agile and scrum delivery methodologies, but understands the challenges and constraints of applying these in a government context. "I enjoy applying my knowledge of Government, technology and agile practices to design programmes that deliver outcomes in a way that fits the culture and capability of the client's team. All methodology has to be adapted to the context in which it's applied, Agile is no exception. I've used my experiences in this space to help co-author the Apis Agile Delivery Methodology, which has successfully supported our clients in managing public policy delivery while achieving the benefits of iterative releases supported by ongoing user research."
From 2012 to 2015 Hassan was programme manager and Apis lead for the Clean Energy Regulator's implementation of the Carbon Pricing Mechanism and then the Emissions Reduction Fund. This included leading the multi-disciplinary team of Apis, APS, contract and vendor staff to deliver on programme outcomes. "We supported delivery of parallel and dependent projects using different delivery approaches, while also accommodating an international vendor operating in a time zone opposite to ours." Hassan reflects "The challenge was being flexible and adaptable, adopting what we could of good Agile practices, while maintaining effective governance and working to each supplier's strengths. The fact that Apis works in blended teams, embedded onsite with our clients was a key contributor to the success of the programme. By genuinely creating a delivery environment of trust and collaboration, we were able to fulfil our part as delivery, change and design leads."
Hassan is grateful for the opportunity to be part of the Apis partnership. He tells us "I'm excited about the challenges ahead for both Apis and our clients and look forward to continuing to partner with Government to deliver on major change and transformation."
"The ongoing success of our company is built on our people, we are continually striving for the best balance of qualitative and quantifiable skills. We don't always get it right but Melissa, Lakshman, Brendan, Annya, David, Mike and Hassan are testament to the fact that when we do, the benefits for both Apis and our clients are there for all to see," Nigel concludes.
Apis is a professional services firm specialising in programme / project management, business process design, complex procurement and strategic planning.
4/18 Bentham St, Yarralumla ACT 2600
T: 02 6206 0000
www.apisgroup.com.au