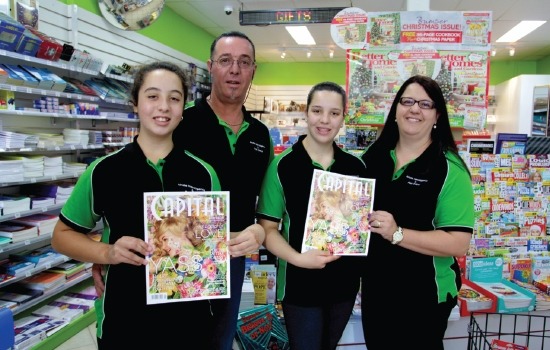 Peter and Niki and their family own the newsagency and Licensed Post Office at Ainslie Shopping Centre.
The current newsagency and post office has served the suburb of Ainslie and its surrounding suburbs for almost 65 years.
"We pride ourselves on our customer service skills and personalised service that 'goes the extra mile' to make our customers shopping experience something special.
"At the Ainslie Newsagency & Licensed Post Office our focus is centred on our customers, and striving to exceed their expectations," Peter said.
The Ainslie Newsagency offers: lottery, newspapers and magazines, cards, giftware, stationery, Dry Cleaning and also a wide range of Postal Services and p roducts to meet your requirements.
"We achieve success by stocking a wide assortment of highly desired products, delivered in a friendly atmosphere by competent and confident team members," Niki said.
The Ainslie Newsagency and Licensed Post Office have very friendly and helpful staff and look forward to serving you when you next visit the Ainslie Shopping Centre.
Ainslie Post Office history:
(Source: ROYAL MILITARY COLLGE OF AUSTRALIA ARCHIVES/MUSEUM)
* The Ainslie Post Office was originally called the Canberra Post Office when it was established on 1 January 1863 on another site. A change of name was necessary when the Federal offices were constructed at Acton. The post office there opened on 1 November 1912 but changed its name to Canberra Post Office on 2 June 1913.
* The present Ainslie Post Office came into existence on the 1st of May 1950.
* The first official record of the Establishment of the Ainslie Post Office is dated 7th February 1860.
* In 1905 the arrival of a telegram was notified by the postmaster to the one or two residents of Ainslie within visible distance by hanging a sheet on the clothes line.
* 1863 The Canberra Post Office was established with local school teacher, Andrew Wotherspoon becoming the first postmaster.
AINSLIE NEWSAGENCY & POST OFFICE
Ainslie Shopping Centre 3 Edgar St Ainslie, Canberra 2602 Phone: (02) 6247 9227