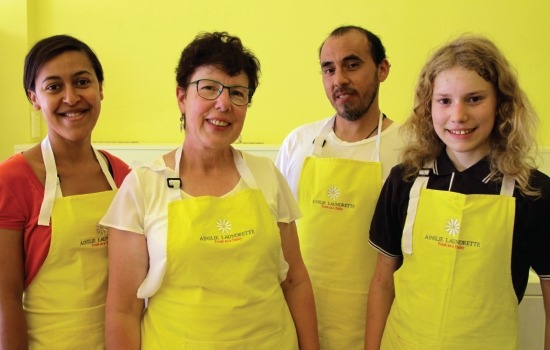 The matter is urgent…your Golden Retriever just gave birth on your bed, to 4 puppies. Plus, your mother-inlaw is coming to stay at Christmas. She's going to need clean bedding (or else). You know your washing machine is too small to do the job, as you ponder… 'Fresh as Daisy'.
Go to the people with 23 kg washing machines. Go to the people who really get doonas, duvets, comforters and quilts: Ainslie Laundrette – Fresh as a Daisy.
Jennifer, Luci, Lynne, David and Ainsley will discuss the best care for your bedcovers with you when you come in to the laundry. They recommend that your doonas should be washed annually as a minimum, to prevent allergens and dust-mites affecting your health. Your bedding will be professionally cleaned, sanitised and packaged.
"We can top up your feather/down doonas for winter warmth. We can even put a freshly laundered and pressed doona cover back on the doona," Jennifer Lanspeary, Director of Ainslie Laundrette, said.
"People pop in to Ainslie Laundrette to ask for advice about the best way to care for their clothing, curtains and bedding. We are really happy to help and we've even taught people how to iron shirts and sew on buttons," Jennifer explained.
A quality preservative-free product 'The Laundress' is sold at the laundry. It includes detergents, fabric-softeners, wool-and cashmere shampoos and sport detergent.
Clothing repairs, dry-cleaning and shoe repairs round out that little laundry – Ainslie Laundrette as a one-stop fabric care shop.
Congratulations on those puppies! And Merry Christmas from everyone at Ainslie Laundrette!
Ainslie Shopping Centre
Edgar St Ainslie, Canberra 2602 Phone: 6162 4150