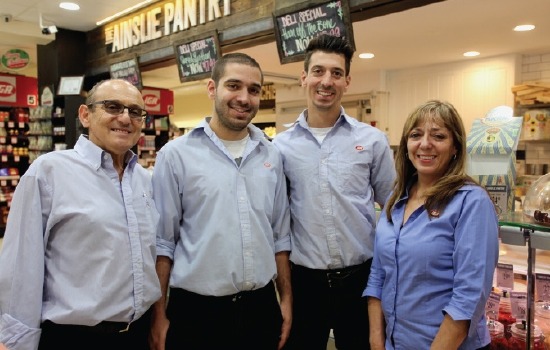 Dear Customer,
Ainslie IGA is more than just a supermarket. We've shaped our business over 51 years and 3 generations, and strive to improve year after year. Our main focus is on personalised service and seasonal, sustainable and healthy products, whilst providing all the traditional staples and products needed for a busy family home.
2014 has been an exciting year, which saw our new Deli and Butchery win the IGA Awards for the best Departments in Australia, much to the pride of our staff. Our deli, 'The Ainslie Pantry' is stocked with freshly made salads, dips, pizzas and much more – including a fine selection of Australian and imported artisan charcuterie and arguably the most decadent Cheese Bar in the ACT. We even have an in store Chef, working around the clock to make sure that our offering is seasonal, fresh and delicious. This year 'The Ainslie Butcher' has built on its great foundations by adding even more Higher Welfare and Organic products including restaurant grade Wagyu, expanding their range of house-made sausages, and introducing the new 'BBQ Pit' – which combines freshly butchered cuts with Chef 's own marinade recipes. Our Fruit and Veg department is also thriving – which means fresh produce being delivered daily from Australia's best growers. In keeping with our philosophy, our Fruit and Veg Team is dedicated to quality, seasonal and fresh produce at the best possible prices.
Through Social Media and engaging our customers, we are able to keep abreast of what's new and exciting in the food world. We have countless Canberra District products around our store including Fix Cold Pressed Juices, Autolyse Sourdough and Pialligo Estate Bacon.
We see the Ainslie Shopping Centre as a fine food hub, where people can come to get all of their essentials, as well as the gourmet goodies that 'the big guys' don't carry, and we're committed to keeping it that way.
Merry Christmas
Newsletter
We package up the most-read B2B Magazine stories and send direct to your inbox. Subscribing is the easiest way to keep up, in one hit.
Manuel Xyrakis, Dimitri Mihailakis, Nick Mihailakis & Irene Mihailakis
Ainslie IGA
9/11 Edgar St, Ainslie ACT 2602
Phone: (02) 6248 5486