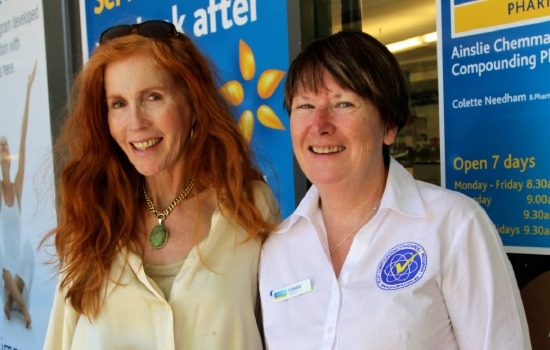 Colette Needham B Pharm, D.H.P and J.P, passionate pharmacist and proprietor at Ainslie Chemmart for the last 33 years, is one of Ainslie's biggest fans.
Colette bought the pharmacy in 1981 and said that there was two of everything back then; 'two pharmacies, two hairdressers, two butchers, two supermarkets, a Commonwealth Bank and a brothel'.
"If the girls had a rash they would pay anything to get it fixed," Colette said laughing.
When she started Colette had one shop assistant and her husband, Walter, would come and relieve her at lunchtime. Today they have four pharmacists, a dispensary technician, a compounding technician, a retail manager and ten shop assistants. Some of the team have been with them for 20 years.
"Back in 1981 you would be lucky if there six cars parked at the front of the shops at any one time. We did deliveries on pushbikes and ran a lot of accounts – as there were no credit cards," Colette reflected.
"Ainslie is still all about families. Once you live here you don't want to live anywhere else."
Colette is excited about the pharmacy services and health opportunities that Chemmart is helping them provide to the Ainslie community. These include:
* Impromy – a new weight loss program developed in conjunction with the CSIRO consisting of snack bars, meal replacements and the CSIRO cookbook for night meals.
* Health checks including cholesterol, glucose and blood pressure levels, weight and BMI levels.
* Spotcheck – a service where we photograph spots of concern (skin markings) with a dermascope camera, a dermatologist assesses the photos and a full report is written within 48 hours for a minimal cost for one to three spots.
"When it comes to medication, one size does not fit all. Compounding is the art and science of hand-making customised medicine solutions on site for all family members including pets," Colette explained.
Ainslie Chemmart Pharmacy is the only fully accredited compounding pharmacy in Canberra. It prides itself on customer service and wellness solutions.
Colette is also very pleased to have the presence of Dr Sandra Cabot – 'the doctor who understands' – running Holistic Medicine Clinics at Ainslie Chemmart Compounding Pharmacy every 2nd Wednesday.
Phone 02 4655 4666 or email [email protected] to make your appointment to see Dr Cabot or Victoria Taylor her naturopath in store.
"We pride ourselves on our customer service and wellness solutions and have many inter generational customers. We love being part of the Ainslie community," Colette said.
17 Edgar Street, Ainslie Phone: (02) 6248 7708 www.chemmart.com.au