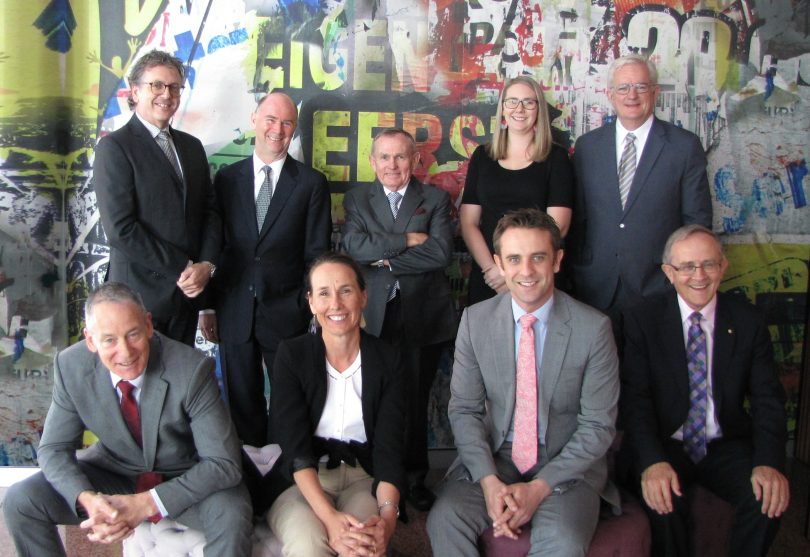 "IT'S IMPORTANT TO ACKNOWLEDGE AND CELEBRATE SUCCESS"
"Bradley Allen Love Lawyers has gone from strength to strength since the merger of well-known firms Williams Love & Nicol Lawyers and Bradley Allen Lawyers in September 2012," Managing Legal Director, John Wilson said.
"To support the firm's continued success and growth in operations, we're pleased to be able to accommodate our eighty staff within one location in the city with some great new facilities for our clients," he said.
Bradley Allen Love Lawyers' stylish renovations at 40 Marcus Clarke Street include client seminar room facilities, additional conference rooms, a large project area and a staff breakout area.
"It's important to acknowledge and celebrate success and we look forward to doing this with our staff, clients and community partners at the renovation opening," he said.
Newsletter
We package up the most-read B2B Magazine stories and send direct to your inbox. Subscribing is the easiest way to keep up, in one hit.
"The Directors are very proud of the team at Bradley Allen Love Lawyers and that it continues to be a city firm in the heart of Canberra."
The team comprises seven Directors – John Wilson, Mark Love, Susan Proctor, David Toole, John Bradley, Alan Bradbury and Keith Bradley who lead five Special Counsel, four Senior Associates and five Associates.
This year's promotion of seven of the firm's lawyers is recognition of their hard work and determination to establish their reputations in their chosen field, and acknowledgement of their commitment to client service excellence.
"As a local firm, we invest in our staff and provide them with a rewarding career path so they are proud ambassadors for our firm and an integral part of the Canberra community, whether for work or in their social lives," John said.
"The Directors congratulate each of the team members on their promotion."
Work/life balance
Bradley Allen Love Lawyers' ability to continually attract and grow a quality legal team demonstrates the firm's continued commitment to support and invest in its people and expertise.
A valuable part of this investment is supporting a work/life balance for employees, evident in Bradley Allen Love Lawyers' commitment to group fitness and innovative health and wellbeing strategies.
Though it was recognised that many other professional services firms offered gym memberships, Bradley Allen Love Lawyers believed that this approach did little to break down internal barriers. Their fitness programs range from bootcamp to soccer, yoga to running and include nutrition seminars.
"Our focus is not on working until you burn out but ensuring you take the time to enjoy your work environment and maximize your performance by maintaining your health and fitness," John said.
"We believe this group-orientated, entry level staff approach to workplace health and wellbeing is a real point of differentiation for the firm and encourages fantastic team spirit between the Directors and all staff members."
The firm even conducts networking through a circuit style exercise competition called 'Sweatworking – the Bradley Allen Love way to network' where other professional services firms and commercial agents are invited to participate in this yearly event with all proceeds donated to charity.
Bradley Allen Love Lawyers has firmly positioned itself as a leader in the field of workplace health for lawyers and support staff alike. The firm's approach is used as a case study by Healthier Work – an ACT government service established to support employers to develop health and wellbeing initiatives within their workplace.
Social responsibility and community
The firm is a keen contributor to the Canberra community in a number of ways including the provision of pro-bono legal assistance, undertaking volunteer legal work, sponsorship arrangements, donations and developing young professionals. Bradley Allen Love Lawyers proudly sponsors, and is the sole legal provider to, the University of Canberra Brumbies.
Bradley Allen Love Lawyers' innovative partnership with Craft ACT is a shining example of the firm's ability to 'think outside the box' in building meaningful, effective partnerships out of a shared passion. The success of this partnership was recognised in 2013, with the firm being awarded the Creative Partnerships SME Award for New South Wales and the Australian Capital Territory.
Several of its lawyers are actively involved in the Property Council, Master Builders Association, ACT Law Society and Law Council of Australia committees, as well as other professional associations such as the Women Lawyers Association of the ACT. The firm's Directors and lawyers sit on not-for-profit boards and community associations including Diabetes ACT, SIDS and Kids, Duo Services Australia, Juvenile Diabetes Research Foundation, Craft ACT and ACT Government Boards including the Land Development Agency.
A TIME TO
Celebrate CONGRATULATIONS TO 2014 STAFF PROMOTIONS
John Larkings – Special Counsel
John is an Accredited Specialist in commercial litigation and has over a decade of experience in the conduct of litigation and dispute resolution matters. He is highly experienced in several legal areas, including debt recovery matters, contractual disputes, bankruptcy and corporate insolvency matters, corporate governance matters and leasing disputes.
Gabrielle Sullivan – Special Counsel
Gabrielle has been practising civil law for over 15 years, primarily in employment and workplace relations law. She has an understanding of both employer and employee perspectives of the workplace relations law landscape. Her focus is on workplace misconduct and investigations, and extends to providing practical advice and representation in discrimination, underperformance, workplace entitlements and termination of employment matters.
Ian Meagher – Senior Associate
I an practises across the litigation and employment teams at Bradley Allen Love Lawyers. Ian's practice primarily involves insurance litigation, employment disputes and commercial litigation. He has advised various insurer and employer clients on public liability and work safety standards and has a passion of applying this experience to his individual clients also.
Liam Early – Associate
Liam specialises in property law and has extensive experience advising clients on a wide range of issues including the purchase and sale of commercial property, unit title issues, commercial leasing, property development and SMSF purchases. Liam was recently the supervising solicitor for a transaction involving over 80 properties across Australia.
Tim Morton – Associate
Tim practises in the estates, estate litigation and estate planning section at Bradley Allen Love Lawyers. Tim's practice is multi-jurisdictional and covers the ACT, New South Wales, Victoria and Queensland. Tim tutors wills & estates law at the ANU and is currently completing a Master of Laws (wills & estates).
Mark North – Associate
Mark practises in the Business Law section at Bradley Allen Love Lawyers. Mark advises public and private companies, individuals and industry peak bodies on a broad range of corporate and commercial issues. Mark is experienced in the establishment and commercialisation of business ventures, venture capital and private equity, corporate governance and compliance, intellectual property and general commercial contracting.
Laura Scotton – Associate
Laura was admitted to practice in the ACT Supreme Court in 2013. Laura manages an agency practice for a number of interstate firms in relation to ACT Magistrates and Supreme Court matters and advises in relation to commercial and contractual disputes, bankruptcy, insolvency, debt recovery and enforcement.
Bradley Allen Love Lawyers Areas of expertise
* Business and Corporate
* Property, Building and Construction
* Conveyancing
* Employment and Workplace Relations
* Estate Planning and Business Succession
* Government and Administrative Law
* Insolvency and Reconstruction
* Litigation and Dispute Resolution
* Local Government Law
* Planning and Environmental Law
* Wills, Power of Attorney, Probate and Administration.
Contact
9th Floor Canberra House
40 Marcus Clarke Street,
Canberra City ACT 2601
GPO Box 240,
Canberra City ACT 2601
DX 5626 Canberra
Phone: 02 6274 0999
Fax: 02 6274 0888
Email: [email protected]
http://www.bradleyallenlove.com.au/
Twitter: @BALLawyers