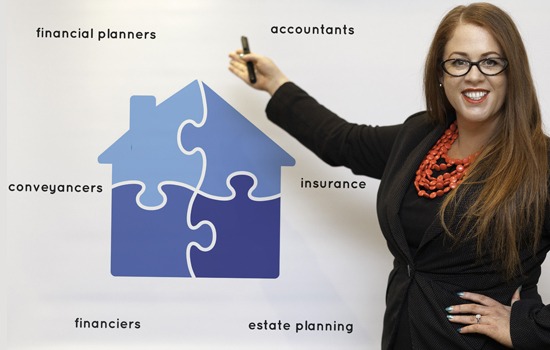 At Choose Properties, we believe in empowering people through education.
We give our clients the information to make astute property investment decisions by offering a complete solution-with objective advice on investing in new or existing properties, interstate or locally.
Honesty and independence are our cornerstones
Choose Properties principals, Abby Morphett and Nyka Tea, have many years of property investment experience, backed by tertiary qualifications in related fields. We established our business to deliver honest, reliable and independent property advice to clients across Canberra.
It is our commitment to honesty and accountability that protects our clients from manipulative sales techniques. We do this by guaranteeing that there is absolutely no pressure on investors to make quick, uninformed decisions on poor quality, one size fits all investment properties.
Our approach is a series of focused meetings with the client-and their associated professional network-to fully understand their long-term needs, objectives and goals. From there, we conduct extensive research on investment properties that provide strong potential capital growth and proven rental returns.
Newsletter
We package up the most-read B2B Magazine stories and send direct to your inbox. Subscribing is the easiest way to keep up, in one hit.
The point of difference with Choose Properties is that our research goes above and beyond anything provided by developers or agents. We engage in our own independent research on the ground, as well as using paid reports. We then provide a comprehensive analysis of the client's investment opportunities, with all statistics referenced and up to date.
A philosophy of transparency through professional networks
Choose Properties' commitment does not end with property recommendations. We help facilitate the entire purchase process, from the initial meeting through to finding the right tenants. With our impeccable negotiation skills, our clients are able to reap the benefits of our relationships with a wide professional network of builders, agents and developers.
To help clients through the purchase process, Choose Properties also connects investors with experts in their chosen fields. These specialists include financial planners,accountants, lawyers and financiers. It is all part of our philosophy of promoting impartiality through external, independent advice. This may be unattainable if your property investment adviser also does your finance, your insurance, and your conveyancing.
Holistic advice in the investment property market
The goal of Choose Properties is to support and mentor our clients, giving them substantive education on how to obtain a balanced investment portfolio. This education extends not only to property (existing or new houses, units, townhouses etc) but also into other investment realms.
For more information on professional networking opportunities, or for the date of our next educational workshop, simply call us on 1300 393 321