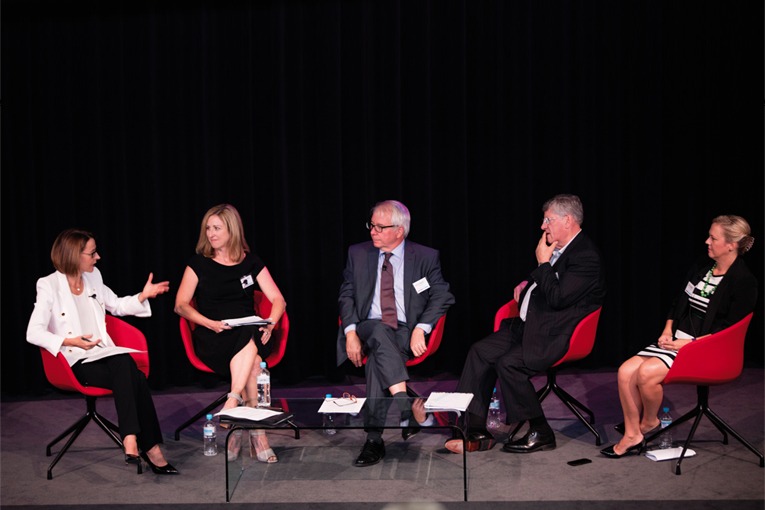 We came. We engaged. We walked away more enlightened. Convergence – Optimising your organisational change – held in April 2016, was launched at the National Museum of Australia in Canberra to an 80 strong participant group from around the country. Created and funded by founder of Redgrass Communications, Sonia Irwin, the event drew together some of the top experts in Australia. From futurist Tim Longhurst opening the day asking us to be FLAWESOME – flawed and awesome at the same time – to the closing speaker, Cris Popp who challenged us on our understanding about resilience. Convergence achieved its intent to raise the bar on change management conversations.
"Convergence was a fantastic day" said Sonia Irwin. "What was born out of frustration in that we were not achieving best practice with change management; I feel that we have now set a new benchmark and that we may be able to start to effect real organisational transformation. We have to help these large change programmes deliver on intended benefits. The resourcing cost is too high to not have these conversations".
Some of the key gems arising out of the day included hearing from the panel, facilitated by Virginia Haussegger. "We heard from Lembit Surr, First Assistant Secretary, Finance who reminded us that what we did previously was the best we could do at that point in time" said Sonia. "I think it's an important lesson, as people often get stuck on why we need to change. Valuing organisational history and culture helps build transformation momentum".
"We'd like to thank Synergy Group, the Women in Information and Communication Network and the Change Management Institute for their support. A special shout out to both Kim Moeller (Synergy) and Jessica O'Meara (WIC) for their support and energy on the day" said Sonia Irwin. So what next for Convergence? "We started a conversation that is by no means over. Our participants on the day asked when Convergence is on again" said Sonia Irwin.
"There is a real desire to keep the ball rolling, so we're looking at sponsorship and speakers for next years' event now and extending the event into the Asia Pacific region. We're also about to launch the videos of the day for participants and subscribers, and host Convergence Intensive in early Spring with some of our popular speakers".
If you are interested in finding out more, go to www.convergenceaustralia.com.au.