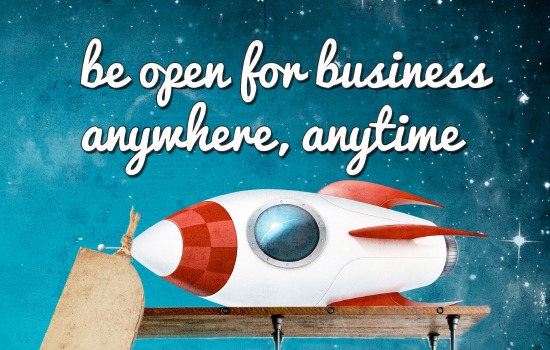 Online shops have been growing in popularity as consumers are drawn to the convenience of shopping online, wherever and whenever they want. This year, for the first time, more than half of all Australian consumers will make purchases from online stores. With more than $24 billion dollars being spent online in Australia over twelve months to March this year, online shops have become an important aspect of every day business across so many industries.
TECHNOLOGICAL ADVANTAGE
Online shops are incredibly accessible compared to conventional "brick-and mortar" storefronts. They are always open, allowing people to shop online whenever they want; no having to wait until the store opens, or rushing to get to it before it closes! An online shop is accessible from wherever a customer wants to shop, all they need is a connection to the internet. Customers can make purchases online from home, at work or on the bus; wherever they want to shop, whenever they want to shop.
Online shops have another advantage over their offline counterparts: lower overheads. Many of the initial setup costs and running costs of a traditional store don't apply to e-commerce. There is no need to rent out a shopfront for hundreds or thousands of dollars a week then spend thousands or tens of thousands of dollars on outfitting the shopfront before the store can even open. Staff don't need to man the counter for the whole day while the shop is open, everyday the shop is open, whether there are customers or not. When you hire staff to process orders from your website, you are hiring because the business is making money, not because it might.
With an online store, there is no practical limit to how many people can visit your store at once, or how much they can buy. There is unlimited shelf space to sell as many products as you want. If stock is expensive, customised or perishable, you can purchase stock or create the products as orders come in so there is less wasted stock and lower overheads for stock storage.
EXPAND AND CONQUER
Newsletter
We package up the most-read B2B Magazine stories and send direct to your inbox. Subscribing is the easiest way to keep up, in one hit.
Because of their accessibility and low overheads, an online shopfront is an excellent way for a business to expand in new directions without all of the expenditure and risk that expanding or opening new physical stores bring. By creating an online store, a business increases its available customer base, going from the people that have access to the business's shopfront, or shopfronts, to the entire country or even into overseas markets. As more people have access to your business, your potential customer base can expand. Being open for business on the internet can bring millions of customers to your business.
DON'T QUIT YOUR DAY JOB (UNTIL YOU'RE READY)
Since online shops don't require a manned shopfront, they also make an ideal avenue for anyone looking to start up a business. An online store doesn't require staff to man the counter like a physical shopfront does, allowing entrepreneurs to start a business without "quitting their day job". This means you are not dependant on the income from the store, lowering the risk of the start-up and giving the new business the time it needs to settle in to its place in the market.
Online stores continue to increase in popularity as the importance of e-commerce in the Australian marketplace grows. This, combined with their accessibility and low setup and overhead costs, make online shops a serious consideration for both new businesses that just starting up and existing businesses that are looking to expand.