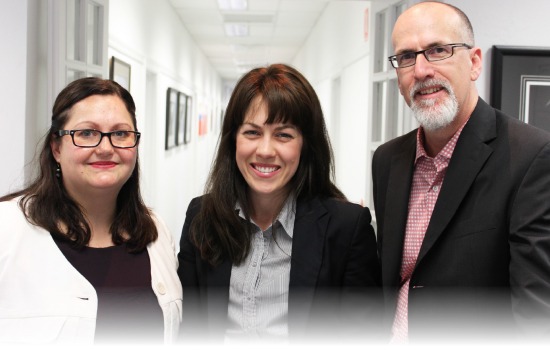 Choosing a lawyer to help with relationship changes is an important process. Not all lawyers are the same and while a lawyer must have a law degree, few lawyers would profess to know all the law. Finding a lawyer who specialises in the field in which you need advice is a pretty sensible starting point. Finding a specialist lawyer who chooses to work in the field they love will bring added benefits.
At Dobinson Davey Clifford Simpson our talented and experienced lawyers working in family law and Wills and Estate planning do so because they love it and because they are very good at their jobs. Our clients get the benefit and protection of lawyers who know what they are doing and care about the client's experience and outcomes.
We also support and pursue Specialist Accreditation. The Specialist Accreditation Scheme was established by the NSW Law Society in 1992 as a way for lawyers to strengthen their expertise in a particular area of practice and to distinguish lawyers who demonstrate advanced skills in an area of practice. It is a structured and rigorous process of assessment about existing knowledge, competency and ability.
At DDCS we are proud to announce that three more of our lawyers have successfully gained Accreditation as Specialists in their fields. Stuart Cameron and Sally McGuinness are now Accredited Specialists in Family Law. Rebecca Tetlow successfully attained accreditation in Wills & Estates Law and is Canberra's only Accredited Specialist in Wills & Estates Law.
Sally, Stuart and Rebecca join myself and my fellow directors (whom are all Accredited Family Law Specialists) Phil Davey, Lois Clifford, Di Simpson and Senior Associate, Alison Osmand. AT DDCS we have eight Accredited Specialists, more than any other law firm in the ACT region.
DDCS is committed to encouraging and facilitating our lawyers to continually learn and to strive for excellence, in their professional practice and in our client service.
Newsletter
We package up the most-read B2B Magazine stories and send direct to your inbox. Subscribing is the easiest way to keep up, in one hit.
We continue to find that the best outcomes for clients have been achieved by lawyers who are experienced and work in their field by calling and whom have high skills in their specific area of practice. Undertaking Accreditation is another way of communicating to our clients how seriously we take these matters. One of the key purposes of the Accreditation Scheme is to assist members of the public to easily identify lawyers who have particular competence in a specific area of practice. Members of the public can feel confident that an Accredited Specialist has been independently assessed as an expert in their field.
Gaining accreditation is no easy feat and is not awarded by the Law Society lightly. Before applying to undertake the 10 week accreditation program, a lawyer must have:
* Practiced full-time for at least five years; and
* Worked in their area of specialty for at least three years.
They must then pass a series of rigorous assessments in the areas of communication skills, drafting documentation, problem solving, interviewing technique and ethical issues.
An Accredited Specialist is not just proficient in the technical aspects of the area of law in which they practice, but also has highly developed skills in problem solving and communication, to enable them to obtain the best outcomes for their clients.
The ACT Law Society does not currently offer an Accreditation Scheme for lawyers practising in the ACT, which is why the DDCS lawyers have participated in the NSW Scheme.
If you would like to make an appointment with one of our lawyers for expert advice, please telephone our office on 6212 7600. [email protected] | www.ddcslawyers.com.au