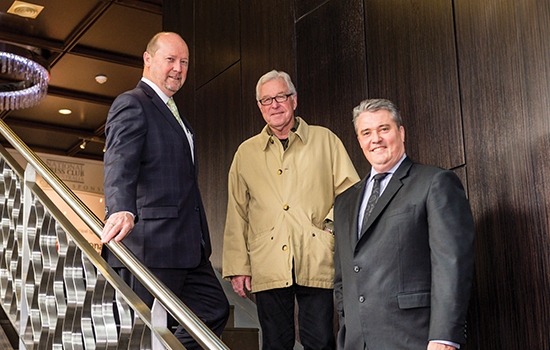 The National Press Club of Australia will celebrate its 50th Anniversary on 10 September 2014 with a black tie gala dinner.
The Anniversary commemorates the first ever speech by a Prime Minister, Sir Robert Menzies, to the National Press Luncheon Club.
The Club has a strong national presence and continues its tradition of presenting speakers such as visiting international figures, heads of state, religious leaders, innovators and of course our own political leaders, including every Prime Minister and Leader of the Opposition.
The National Press Club also has a strong local presence as a place to network and conduct business. It is a first class venue for weddings, events, functions, meetings, conferences, dinners and cocktail parties.
Recent industry awards are testimony to the Club's pursuit of excellence.
These include:
Newsletter
We package up the most-read B2B Magazine stories and send direct to your inbox. Subscribing is the easiest way to keep up, in one hit.
* Clubs ACT Awards for Excellence
2013 and 2014 Small Club of the Year, 2014 Best Conference & Event Centre, 2013 and 2014 CIT Best Apprentice
* Restaurant & Catering Awards for_Excellence
2014 Winner – Restaurant in a Pub/Club/ Tavern, 2014 Finalist Wedding Caterer, 2014 Honourable Mention Function/ Convention Centre Caterer.
Membership to the National Press Club is open to corporates, journalists, and individuals.
Members have access to all Club facilities and become part of an iconic institution with membership made up of the influencers and decision makers of Australia and the Canberra business community.
The Club offers exclusive member only events and award winning dining facilities, which, when combined with its comprehensive program of thought provoking speakers, makes the National Press Club a sophisticated venue for relaxing and networking.
Given the Club's high profile and calibre, the smooth running of events and activities is essential. OPC supports the Club by providing a fully Managed Service for all its IT infrastructure. This ensures that the technology that the Club relies on for event bookings and operations behind the scenes is seamless and reliable.
OPC has introduced best of breed Dell hardware solutions and provides end- to-end proactive monitoring to ensure critical services such as backups, email, event software, and security are current and always available.
As a similarly long-standing Canberra business (est. 1985), OPC congratulates the National Press Club on its 50 years and looks forward to continuing its very successful partnership for many years to come.
Visit www.npc.org.au for more information about the Press Club and its anniversary celebrations or contact OPC at www.opc.com.au or 1300 788 616 for information on how we can improve your IT.
For more information on how OPC can revolutionise your business, contact the team on 1300 788 616 31-37 Townshend Street, Phillip ACT 2606 www.opc.com.au