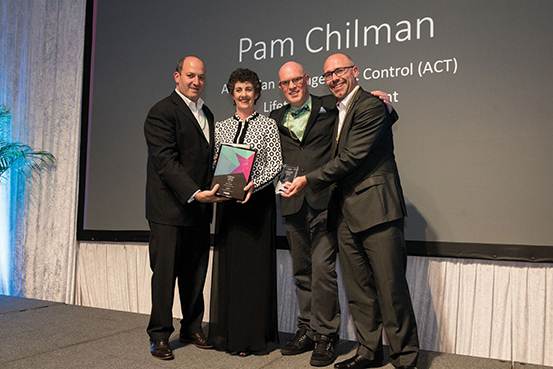 Pam Chilman and AMC Training Centre were recently recognised at the recent MYOB National conference at the Gold Coast. Pam joined a small group of individuals with receipt of the prestigious Lifetime Achievement award. The 2016 MYOB Top SME ACT Sales Award was also bestowed upon Pam, an award she and AMC have received annually since its induction in 2006.
"I feel proud and deeply honoured to have been awarded this special recognition from MYOB. 'The Lifetime Achievement' award, introduced 5 years ago feels akin to being inducted in to a Hall of Fame," Pam said proudly.
Having worked with and provided input in to MYOB's SME product range since its introduction in the early 1990's, Pam says this has provided her with product insights and the opportunity to make a real difference, helping businesses to automate and understand their financial systems.
"This year's conference had a fresh new look unveiling MYOB's updated branding to reflect that the way we now do business and engage with others has changed. MYOB continues to make business life easier, by evolving their product to reflect the way we now work," Pam explained.
Newsletter
We package up the most-read B2B Magazine stories and send direct to your inbox. Subscribing is the easiest way to keep up, in one hit.
AMC have recently licensed training materials for one of the reporting add-ons to help address the need for key financial reporting of changed funding models faced by many not for profit organisations.
"I continue to be delighted with how advances in technology can really assist organisations connect and increase efficiencies to best position themselves' Pam stated.
With advancements in technology and resulting reduction in costs, many more organisations are able to link their systems with other solutions.
Pam and her team are excited to be able to source and integrate the best solutions for clients to automate processes, stating that they are able to significantly reduce the duplication of tasks and resulting errors.
"Technology has revolutionised the way bookkeeping is now carried out and no longer has the high price tag, or need to have the extensive IT skills, that were required previously," Pam said.
Understanding the tools and services that can improve bookkeeping processes are AMC's focus, with their popular MYOB News Channel providing key updates each month to bookkeepers around Australia. Pam, who heads up the team at AMC gets excited when initiatives such as National e-invoicing standards are announced, that will provide further time and cost savings for business, and the potential to save the economy as much as $10 billion per year!
The AMC News Channel initiative provides such updates on the industry along with how features in MYOB can assist with running their businesses, delivered online, providing easy access for all to keep up to date. AMC supports bookkeepers, who often lack regular support and training, providing quality classroom and online sessions on the latest technology to provide important, cost effective help during this time of significant change in the profession.
AMC Training Centre Background
The AMC Training Centre is a productivity specialist centre based in ACT providing support nationally for small to medium business as well as government departments and agencies. AMC is a Registered Training Organisation dedicated to quality, relevant training having been recognised with a number of national and local awards for their commitment to increasing productivity since 1992. AMC's range of courses include MYOB, Xero, Quickbooks, Reckon, Calxa and the Microsoft Office suite such as Excel, Word, Project, Outlook, PowerPoint, Access and Visio.
AMC Training Centre offers services to support users to be proficient and efficient and can be contacted via www.ausmanagement.com.au or 02 6285 4888.
AMC Training Centre carry out Financial Systems reviews, which they have kindly offered B2B readers a special rate.
Contact the team at AMC for more details on [email protected] or 6215 9710
Or visit their website to find out more about their services and other awards: www.ausmanagement.com.au
For further information contact: Pam Chilman
AMC Training Centre Australian Management Control Pty Ltd
32-38 Townshend St, Phillip ACT
Phone: 02 6285 4888 (direct 6215 9713) 0412 056 888
Email: [email protected]
Web: www.ausmanagement.com.au