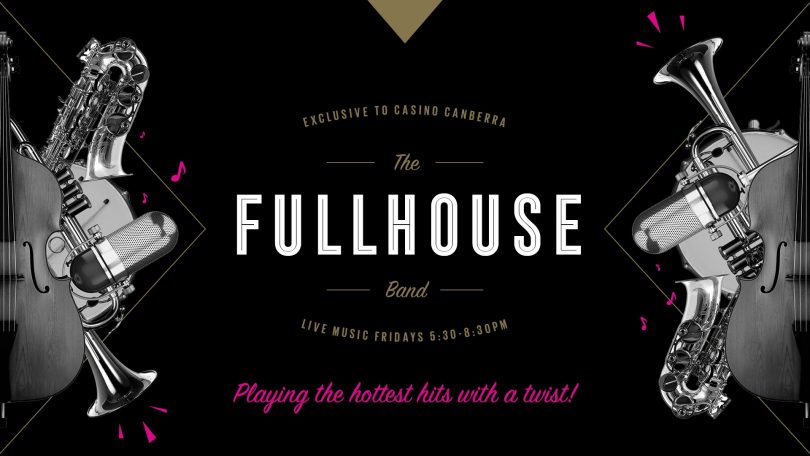 The (new looking a million dollars) Canberra Casino are supporting live music in Canberra by premiering The Fullhouse Band this evening – just in time for Friday after work drinks.
The Fullhouse Band plays in a Postmodern Jukebox style i.e. todays hits with a smoking hot jazz feel.
The band will be playing for the next three Fridays from 5.30pm – 8.30pm (12th, 19th and 26th of May).
B2B Magazine also has it on good authority that the Chandelier Bar will glistening and the joint jumping with an invasion of some of Canberra's finest swing dancers.
So, bring your colleagues and friends after work for a drink in the fabulous Chandelier Bar at Casino Canberra and be the first to hear The Fullhouse Band.
B2B Magazine has heard on the grapevine that at last night's final rehearsal Derrick Brassington was sounding smooth on the drums, Leisa Keen drop dead on piano and vocals, Scott Temby, ace on the double bass, John Mackey nailed sexy saxman – and of course Tim Benson (me) had a good toot on the trumpet.
Newsletter
We package up the most-read B2B Magazine stories and send direct to your inbox. Subscribing is the easiest way to keep up, in one hit.
Head straight to the Chandelier Bar at Casino Canberra today after work for some post-budget-end-of-the-week-after-work-shinnanigans!
No cover charge.